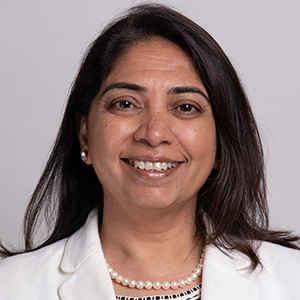 Rashmi Assudani, Ph.D.
Associate Provost for Academic Affairs
Administrator
Rashmi Assudani assumed the role of Associate Provost of Academic Affairs at Xavier University on August 17, 2020. In her current role, she oversees the areas listed here.
She is also a Professor in the Department of Management & Entrepreneurship at Xavier University and served as Chair of that department for two consecutive terms (2013-2019). During Y2019-2020, she was awarded an ACE (American Council on Education) Fellowship with the President of University of Louisville. During the fellowship, she worked with the President and Provost on projects related to the implementation of strategic plan. In addition, she is certified by Society for College and University Planning (SCUP) on integrated planning.
Rashmi has received her undergraduate and graduate education from Asia and Europe, followed with a PhD in Strategy & Organizations from McGill University, Canada. In 2015, she was selected for a program on 'Art and Practice of Leadership' at the Harvard Kennedy School.
She has enjoyed teaching courses such as strategic management, managerial behavior, innovation and entrepreneurship. Her research expertise lies in the area of innovation, creativity, knowledge management and learning, and her research has appeared in multiple journal papers and in conference presentations, and has also received numerous awards. She has presented to audiences in India, Canada, US, France and The Netherlands. She was an invited speaker at London Business School, and in 2012 she was invited to give a TEDx talk on education and its role in fueling innovation.
She has a diverse business experience with leading organizations such as Citibank, McCann Eriksson, and Bennett Coleman & Co. (largest media conglomerate in Asia). She gained her early experience with corporate intrapreneurship at Bennett Coleman & Co. Currently, she serves on the executive board of American Council on Education (ACE) Women's Network of Ohio (WNO). In addition, she serves her academic discipline by serving on boards of select journals and conferences.
Expertise
Innovation; Knowledge Management; Strategy
First Year at Xavier
2005
Links
Resume