Remote Learning Services
The library supports the research needs of Xavier students, working on or off campus, by providing the following services and resources. Get started by working through the following questions.
Welcome to University Library
Librarian & Research Help
Connect from Off-Campus 
Search for Sources
Borrow & Renew Library Material
WCB Trading Room Resources
One resources, which is usually only available in the Fifth Third Trading Room in Smith Hall, is available remotely during this time of COVID-19. Capital IQ in now available for on campus and remote use. Access Capital IQ here.
Answers to Common Questions
How do I contact a librarian or get research help?
Librarians are available for research assistance by chat Monday-Thursday, 9:00am-12:30pm from the library's homepage, in person Monday-Thursday, 12:30pm-4:00pm at the Connection Center Desk in the CLC, by text at 513-773-3263, and by email at askus@xavier.edu. You also may contact your personal librarian by email or to request an in-person or Zoom meeting.
How do I research off-campus?
When you access library research resources from off campus, you will be prompted for your Xavier credentials using the Microsoft Authentication app, which are the full email address and password that you use to log into your Xavier email and Canvas.
Select your Xavier email account.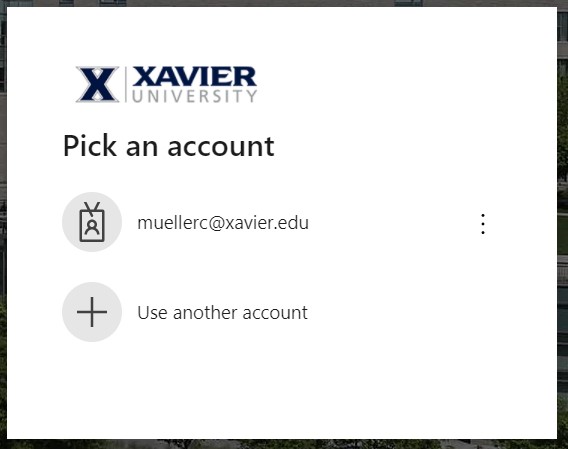 Enter your Xavier password, then Sign in.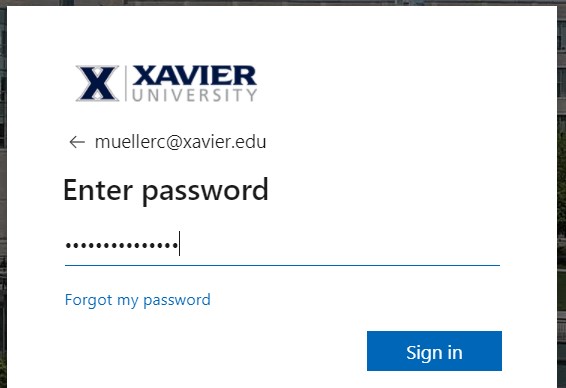 Next, you must approve the sign in request from your Microsoft Authenticator app.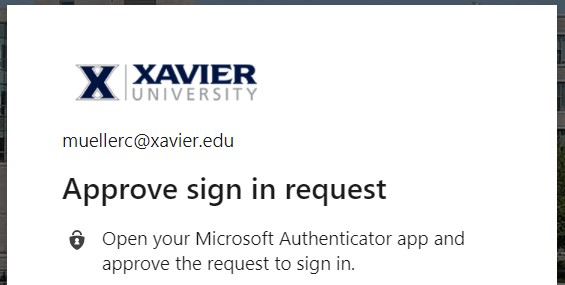 If you experience issues accessing the databases or full text articles after you have entered your correct credentials, please email the library staff at askus@xavier.edu.
What do I do if I can't connect or I get an error message?
When working remotely and logged on to the Global Protect Virtual Private Network (VPN), you may encounter an error message when trying to access library resources that require authentication (EZ Proxy prefix is in front of the resource URL). If you get a "Secure Connection Failed" error, log out of the VPN and re-authenticate in order to gain access to the resource. We are working with IT to correct this issue.
If you are experiencing an issue with a library system or resource, please open a ticket. For general questions or research assistance, please email askus@xavier.edu.
Search@XU tab: What is it and how do I use it?
Start researching with the Search@XU Quick Guide.
Also, learn about advanced searching from the Search@XU Advanced Search video.
Search@XU tab: How do I obtain journal articles?
Download or Print  from the upper right corner of the copy of the article.

Books & Media tab: How do I access electronic books?
You can search the library's e-book collections from the library's homepage. Choose the Books and Media tab, which accesses the Xplore library catalog. You can also search for e-books through Search@XU. Limit your results in the left menu to Xavier Xplore/OhioLINK Catalog Only and look for the eBook icon in your results.
Databases tab: How do I access databases?
Using Subject Databases Quick Guide
How can I limit my large number of search results?
Using Limiters and Filters Quick Guide
My instructor mentioned XU Tutor. What is it?
XU Tutor are self-guided library tutorials that will help you research more effectively while saving you time and helping you succeed at Xavier. Click here to access XU Tutor.
How do I borrow physical books, media items or other physical library materials?
In-Person Check Out
Items may be checked out and holds picked up in person at the Connection Center on the 3rd floor of the CLC. 
No-Contact Hold Pickup
Place a hold on Xavier owned materials in XPLORE using the Request button and set an appointment for the time you wish to pick up the item(s). Library staff will check out the item(s) to your account and have them ready when you arrive. You can make the appointment by clicking the link at the time of placing the hold, from the email letting you know your hold is ready, or by following this link.
How do I renew materials?
You may renew materials in person at the Connection Center on the 3rd floor of the CLC, by calling 513-745-3881, or by emailing libcirc@xavier.edu. 
If you have any questions about library resources or services, please email
askus@xavier.edu
.