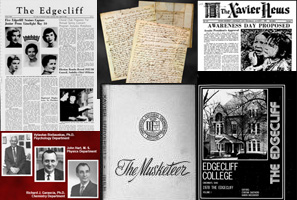 The University Library is pleased to provide access to a number of digital collections published at Xavier University. These collections typically contain the scholarly, historical, and pedagogical works of faculty, staff, and students at Xavier University. The library welcomes suggestions for additional Xavier University collections that could be digitized and benefit the Xavier community.
Access
Most of the library's digital collections are accessible to the world and can be found on one of the following platforms:
Electronic Theses and Dissertations (ETD) Center (a database of masters' theses and doctoral dissertations submitted by graduate students matriculating at higher education institutions in Ohio. It is produced by participating Ohio colleges and universities and world-wide access is provided by OhioLINK)
Exhibit the University's institutional repository, gathers, preserves, and provides access to the scholarship, creative works, and records of the Xavier University community. It contains faculty and student scholarship, yearbooks, and a wide variety of materials from the library's archives and special collections .
Contacts
University Archives and Special Collections: Anne Ryckbost, University Archives Librarian, McDonald Library 309, ryckbosta@xavier.edu, 513 745-4821
Institutional Repository: Christian Sheehy, Digital Initiatives Librarian, McDonald Library 112, sheehyc@xavier.edu, 513 745-2028
Electronic Theses and Dissertations: Daphne Miller, Head of Collection Management, McDonald Library 203, millerda@xavier.edu, 513 745-1007