University Archives & Special Collections
Description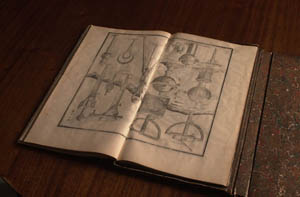 University Archives serves as the chief historical resource for materials about the University, its people, programs, and culture.
Special Collections contains rare books, works of art, manuscripts, and other valuable materials.
Location
University Archives is located on the third floor of the McDonald Library, room 309, and Special Collections is located in room 310 on the 3rd floor of the McDonald Library.
Access & Hours
Descriptions of some of the archival resources in University Archives can be found the in Library's catalog. To browse the catalogued material, do an advanced search for keyword phrase "Xavier University" and limit the location to "Archives." The descriptions are also available through the OhioLINK Finding Aid Repository, which contains descriptions of archival collections from contributing institutions in Ohio. To search for materials from Xavier University, select the advanced search feature on the homepage and then limit your search by contributing institution to Xavier University Archives and Special Collections.
Access to the materials in University Archives and Special Collections is by appointment only. All materials are non-circulating. Contact the University Archives Librarian to set up an appointment.
Selected collections have been digitized and are available in Exhibit. See the Digital Collections page for more information and a complete list of collections accessible in digitized format.
Appointments
To use the materials in University Archives or Special Collections, please make an appointment with Anne Ryckbost, University Archives Librarian, using one of the methods listed below:
Online Form: Patron Use Registration Form
Telephone: 513 745-4821
Email: ryckbosta@xavier.edu
In-person: ask for Anne Ryckbost at the Connection Center (3rd floor of the Learning Commons)
Fax: 513 745-1932
Postal mail: direct to Anne Ryckbost using the address below:
McDonald Library, Room 309
3800 Victory Parkway
Cincinnati, OH 45207-5211
Staff
Anne Ryckbost, University Archives Librarian Room 309, ryckbosta@xavier.edu, 513-745-4821
Fr. Thomas Kennealy, University Archivist, McDonald Library, Room 308, kennealy@xavier, 513 745-4822