Easter Quotes
"For I remember it is Easter morn,
And life and love and peace are all new born."
- Alice Freeman Palmer (1855-1902), First female college president
"Let the resurrection joy lift us from loneliness and weakness and despair to strength and beauty and happiness."
- Floyd W. Tomkins

"I think of the garden after the rain;
And hope to my heart comes singing,
"At morn the cherry-blooms will be white,
And the Easter bells be ringing!"
- Edna Dean Proctor, Easter Bells.

"The resurrection gives my life meaning and direction and the opportunity to start over no matter what my circumstances."
- Robert Flatt
"Easter is the demonstration of God that life is essentially spiritual and timeless."
- Charles M. Crowe
"Now let the heavens be joyful,
Let earth her song begin:
Let the round world keep triumph,
And all that is therein;
Invisible and visible,
Their notes let all things blend,
For Christ the Lord is risen
Our joy that hath no end."
- Saint John of Damascus
"On Easter Day the veil between time and eternity thins to gossamer."
- Douglas Horton
"Easter spells out beauty, the rare beauty of new life."
- S.D. Gordon
"Do not abandon yourselves to despair. We are the Easter people and hallelujah is our song."
- Pope John Paul II
"The fasts are done; the Aves said;
The moon has filled her horn
And in the solemn night I watch
Before the Easter morn.
So pure, so still the starry heaven,
So hushed the brooding air,
I could hear the sweep of an angel's wings
If one should earthward fare.
- Edna Dean Proctor, "Easter Morning"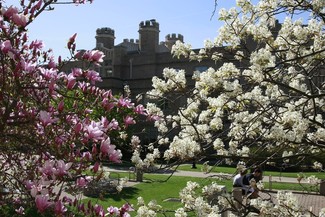 But from this earth, this grave, this dust,
My God shall raise me up, I trust."
- Walter Raleigh
"For I remember it is Easter morn,
And life and love and peace are all new born."
- Alice Freeman Palmer
"Awake, thou wintry earth -
Fling off thy sadness!
Fair vernal flowers, laugh forth
Your ancient gladness!"
- Thomas Blackburn, "An Easter Hymn"
"See the land, her Easter keeping,
Rises as her Maker rose.
Seeds, so long in darkness sleeping,
Burst at last from winter snows.
Earth with heaven above rejoices..."
- Charles Kingsley
"'Twas Easter-Sunday. The full-blossomed trees
Filled all the air with fragrance and with joy."
- Henry Wadsworth Longfellow, Spanish Student
"Let the resurrection joy lift us from loneliness and weakness and despair to strength and beauty and happiness."
- Floyd W. Tomkins
"The story of Easter is the story of God's wonderful window of divine surprise."
- Carl Knudsen
"Angels, roll the rock away;
Death, yield up thy mighty prey:
See, He rises from the tomb,
Glowing with immortal bloom."
- Thomas Scott, "Easter Angels"
"Our Lord has written the promise of the resurrection, not in books alone, but in every leaf in spring-time."
- Martin Luther
"I think of the garden after the rain;
And hope to my heart comes singing,
At morn the cherry-blooms will be white,
And the Easter bells be ringing!"
- Edna Dean Proctor, "Easter Bells"