Sustainability - A Sustainable History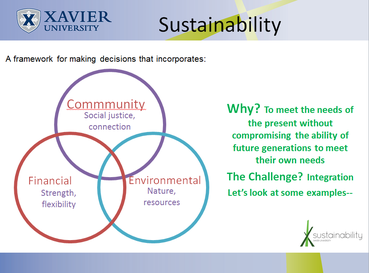 In addition to being responsible stewards to our environment, Sustainability encourages us to pursue social justice as well as financial security. Sustainability is about developing projects that bring society, environment and economy together to meet the needs of today without compromising the needs of future generations.
This slideshow shows the sustainable projects that have been conducted since Fr. Graham signed the American Colleges and Universities President's Climate Commitment in 2008.
Please contact us if you have any ideas or would like more information about Sustainability at Xavier University, 513-745-3385
Sustainable Construction
Construction of the Hoff Academic Quad was completed on August 13, 2012 and consists of the Conaton Learning Commons, Smith Hall and the Central Utility Plant. These three buildings, along with Justice Hall, were designed to meet or exceed the US Green Building Council's LEED silver standards.
What Xavier is Doing
Air Quality: Low VOC materials, CO2 monitors, and Radon Gas mitigation systems are just a few of the ways Xavier is keeping the air clean and comfortable indoors and outdoors.
Energy: Xavier's energy consumption has decreased by 17.5% since the completion of the Hoff Academic Quad.
Energy Wheels: Energy wheels reduce energy consumption and maintain comfortable indoor environments.
Green Roof: The first green roof on Xavier's campus is more than a cool place to hang out - it's sustainable!
Lighting: High efficiency lighting is utilized around campus including LED, CFL and T5 light fixtures
Low VOC Materials: Carpets, paint, and other low VOC materials benefit the natural environment and improve indoor conditions.
Reflective White Roofs: White roofs prevent 80% of sunlight from heating the city air and atmosphere, directly reducing the earth's temperature and reducing energy consumption from heating and cooling buildings
Sustainable Construction: Conaton, Smith, Justice and the Central Utility Plant have been built to LEED Silver standards.
Water: Water consumption at Xavier has decreased by 20%.
Recycling Old Projects

The demolition work related to new building projects also includes massive recycling efforts. When the former Zumbiel Packaging facility was razed in preparation for the construction of Xavier Square, the University recycled:
32,365 tons of concrete
1,520 tons of brick
206 tons of asphalt
2,679 tons of steel
In addition, the University salvaged materials from the houses along Dana and Ledgewood avenues that were demolished to make way for the projects. Xavier's contract with the demolition company specifies that 90% of the materials from the demolition be recycled.