News and Archives
2019 Spring Semester
We are looking for Sustainability Student Interns and Work Study Students for the upcoming 2019-2020 Academic Year.
Applications are being accepted now (from students with sophomore or junior status) for two $2500 Sustainability Student Intern awards for 2019/2020. Student interns will work with Xavier's Sustainability Committee and its co-directors (academic and physical plant) to advance the goals of the committee, including sustainability reporting and measurement. Work hours will average 125 hours per semester, or around 10 hours per week. Only apply if you have these hours available. Selection criteria will include demonstrated interest and effort in sustainability, and GPA. 
We are also seeking Sustainability Work Study Students (from students with freshman, sophomore, or junior status) to support academic program goals, to work closely with me, on projects guided by the ECOS/SUST Director Professor Bertaux.

Please send a resume & cover letter to sustainability co-chair/director Professor Nancy Bertaux, by emailing to Alexandra Roman at romangonzaleza@xavier.edu. In your cover letter, please express interest in one or both of these positions.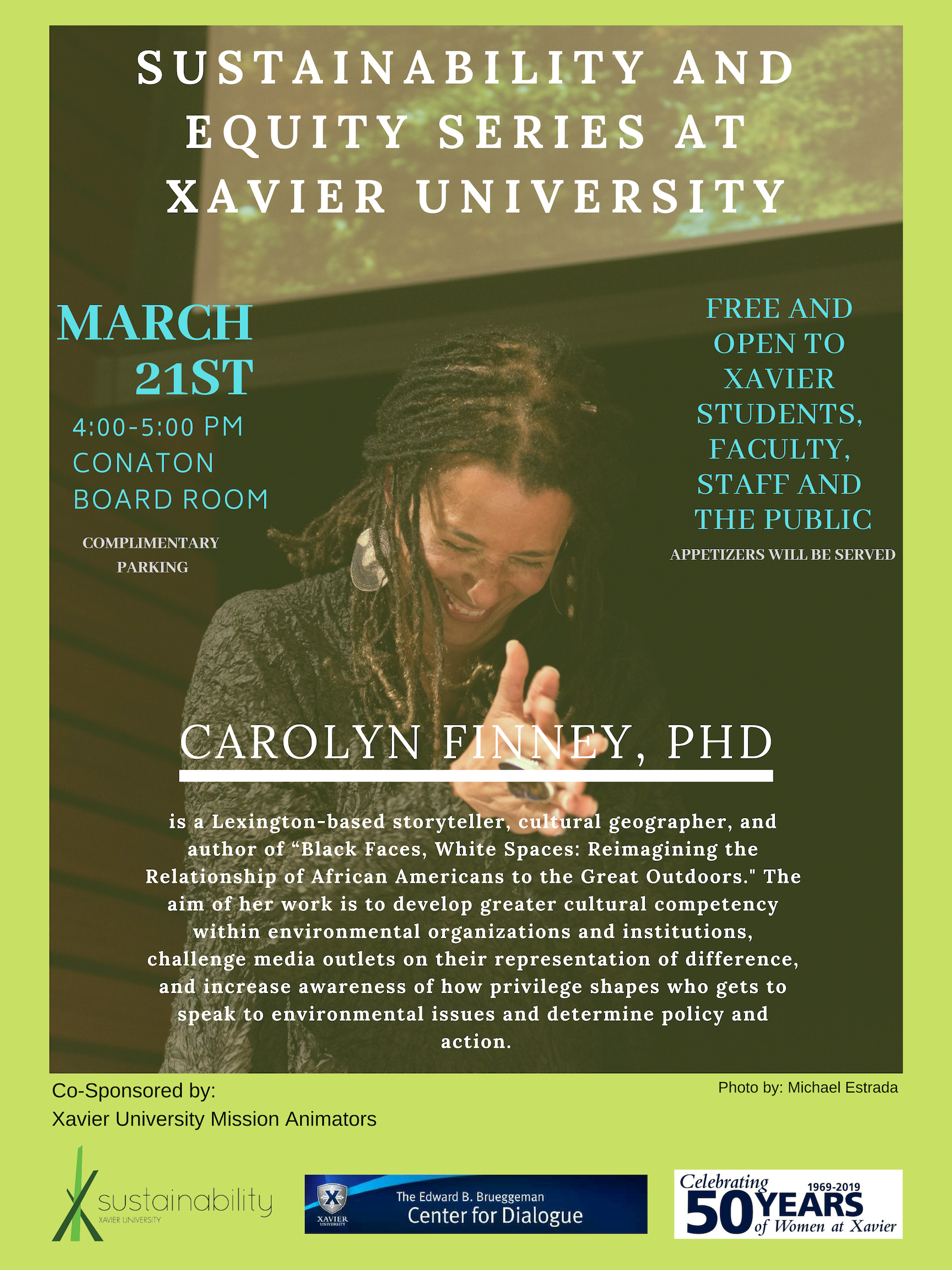 2018 Spring Semester
EARTH WEEK APRIL 16-22
April 16th is the kick off of Earth Week at Xavier, we have a few thing planned including a clothing swap, a flower planting event we will be partnering with SAC on and we plan to offer a TED Talk event, among others in the works. Our festivities cap off with an Earth Day celebration in Blue Ash on Saturday, April 21st. 
If you are interested in helping to organize or join us at the Earth Day event, please reach out to me at smithm82@xavier.edu or another member of the XSS Board.
VANDANA SHIVA, PHYSICIST, ENVIRONMENTAL THINKER, AUTHOR 

7:30 PM
Sunday, April 22, 2018 

James and Caroline Duff Banquet Center at Cintas, Xavier University
Summer Study Abroad in Italy!
This Study Abroad trip is currently being postponed, potentially until the Summer of 2019. More information will be available soon.

Choose from 2  to 3 classes, in Sustainability, Theology and Music, for 6 9 Credits.
THEO 257 (3 cr.) Franciscan Spirituality, Ahlgren 
MUSC 108 (3 cr.) Music, Love & Death: The Earth, Skeirik
SUST 465 (3 cr.) Topics in Sust: Compassionate Economies, Bertaux 
Enjoy daily forest, hill and mountain hikes in the heart of Italy. Dialogue with regional leaders in sustainability; learn how to envision our environmental future; discuss business ethics. Re trace St. Francis's steps, study music about caring for the earth, and participate in Jesuit/Ignatian reflection. 
If Interested, contact Dr. Bertaux, or Alex Roman.


Mill Creek Canoe Trip
When: Saturday, March 24th & April 1st  (9:00am 3:00pm)
Where: We will meet at the circle between Smith and CLC for a prompt 9:00am departure, in carpools
Cost: There is a $10 fee for the canoe rental/guide fee. This cost also covers an official membership into the Mill Creek Yacht Club and a T shirt. 
Route: We will be canoeing an approximately 5 mile section of the lower Mill Creek. Specifics TBA.
Contact: Please contact Adam Konopka with any questions and to reserve a spot.
---
2017 Fall Semester
Natural Resource Economics Partners with Cincinnati's Office of Environment & Sustainability
          Each group in both sections of Dr. Bertaux's ECON 320 classes paired up with a task team for the Green Cincinnati Plan to create project proposals with cost benefit analyses of sustainability initiatives for the city of Cincinnati to further their progress toward the goals laid out in the Green Plan. The Task Groups included focus areas such as; Resilience, Transportation, Waste, Energy, Food, Natural Systems and Community Engagement.
          Students worked in conjunction with Ollie Kroner, the Green Cincinnati Plan & Sustainability Coordinator to research project proposals which the Office of Environment and Sustainability at City Hall will consider for future investment. Some highlights of the proposals include; Educational campaigns regarding green branding, composting and recycling and the importance of eating local food, increasing the overall tree canopy to reduce CO2 emissions and decrease harmful effects of storm water runoff, energy conservation/reduction efforts by installing LED streetlights, and utilizing energy benchmarking to compare high efficiency buildings to create new green building codes and utilizing renewable fuels for public transit and increased overall resilience.
          The Green Cincinnati Plan is integral to the city's goal towards 100% renewable electricity by 2035, which includes the largest on site solar commitment of any metropolitan area in the United States. If you are interested in details or progress of the Green Cincinnati Plan, be sure to check out the Office of Environment and Sustainability's website, and follow the progress of the Green Cincinnati Plan!  
---
Composting Pilot Program
This past semester, Xavier Student Sustainability (XSS) worked on a Composting program, utilizing table top composting bins around campus. This is part of an effort to increase campus wide composting in offices and buildings for our Earth Tubs, located on the north side of the McGrath Health & Wellness Center.  Yard waste from the Physical Plant Grounds Crews, as well as food waste from the Cintas Center and Gallagher Student Center, will be cultivated into fertilizer that can be re used by Physical Plant, the Urban Farm and the Nexus Garden. 
     Next semester the program is looking to add additional composting bins, and is working towards adding a weighing station, in order to get an measurable number of how much food waste we are preventing from being thrown away. If you are interested in more information or getting a compost bin, contact Jonathon Duffy.


---
2017 Spring Semester

Mill Creek Canoe Trip
April 1
When: Saturday, April 1st, 9:00am 3:00pm (April 9th rain date)
Where: We will meet at the circle between Smith and CLC for a prompt 9:00am departure in carpools.  

The Mill Creek Yacht Club has offered to host another canoe trip for Xavier students.  This is the third year running it has been a really fun and educational experience.  

Cost: There is a $10 fee for the canoe rental/guide fee.  This cost also covers an official membership into the Mill Creek Yacht Club and a T shirt. 

Route:  We will be canoeing an approximately 5 mile section of the lower Mill Creek.  Specifics TBA.
 
Mill Creek Yacht Club:  Its a really dynamic group.  Check out their website:
http://millcreekwatershed.org/know the mill creek/mill creek yacht club/

For more information or to sign up, contact Adam Konopka
---
---
Film, Music, and Stories from the U.S./Mexico Border
April 2, 5:30-7:30 pm
Kennedy Auditorium


Join Kathleen Smythe, Julia O'Hara, Gillian Ahlgren and Kristine Suna Koro for a night of film, music and stories from the U.S./Mexico border. 
Special guest: Natalia Serna, singer songwriter featured in Creighton University's Backpack Journalism film, "El Deportado,"
---
CLIMATE JUSTICE SERIES SPEAKER
NAOMI ORESKES
CLIMATE CHANGE AND THE MERCHANTS OF DOUBT
APRIL 6, 2017 7-9 pm
Climate Change: Now What?
Internationally renowned author, geologist, science historian and Harvard professor, Naomi Oreskes is a leading voice on the issue of the role of humans in affecting climate change and is the author of both scholarly and popular books and articles.  
In her recent book, The Collapse of Western Civilization, she speculates on our future if warnings of climate catastrophe are ignored. Her TED Talk, "Why We Should Trust Scientists" has over a million views. In the influential book and documentary,Merchants of Doubt: How a Handful of Scientists Obscured the Truth on Issues from Tobacco to Global Warming, Oreskes examined how a small group of scientists joined forces with political interests to challenge the scientific consensus on important health and environmental issues.
Naomi Oreskes is currently professor of the history of science and affiliated professor of Earth and planetary sciences at Harvard University.  She has lectured widely and won numerous prizes including the 2011 Climate Change Communicator of the Year and the 2015 Geological Society of American Public Service Award. She met Pope Francis at a special meeting on climate change and sustainability held at the Vatican and in 2015 wrote the introduction to the Melville House edition of the Papal Encyclical on Climate Change and Inequality, Laudato Si'.
CLIMATE JUSTICE SERIES:  We define Climate Justice as climate related policies and practices that are ecologically sound as well as economically advantageous for all members of society, especially the least well off, who are often the most affected by climate change.
---
SUSTAINABILITY STUDENT AWARDS FOR 2017/18
The following students have been selected for sustainability student intern awards for 2017/18:
Jonathon Duffy, Economics Sustainability and Society major:  Fall and Spring semester 2017 18
Sam Settlemyre,  Economics Sustainability and Society major: Fall semester 2017
Laura Castillo,  Economics Sustainability and Society major: Spring semester 2018
Student receiving the awards will work with Xavier's Sustainability Committee to advance the goals of the committee, including sustainability reporting and measurement.
Please contact the Sustainability Committee co chairs, Professor Nancy Bertaux (Bertaux@xavier.edu) or John Schulte (schultej2@xavier.edu) with any questions.
---
---
Registration for Summer and Fall Begins March 27, 2017
You should be making an appointment with your advisor now if you haven't already.  

There will be a new sequence of one credit hour courses offered in the fall. While these courses can be taken separately, they represent a unique opportunity to learn about the creation of a sustainability program from conception to execution. All courses will be taught by Len Sauers, Retired Sr. VP for Global Sustainability, P&G.


SUST 460 / BUAD 660: Strategy and Goal Setting: Sustainability
W 6 8:30 Aug 23 – Sep 20 (1 credit)

The first step that any business must take in creating a sustainability program is to develop a vision, set a strategy and establish quantifiable goals.  In this course students will gain an understanding of the primary drivers of environmental and social sustainability today, including climate change, solid waste management, water scarcity, supply chain responsibility, etc. 
 
SUST 461 / BUAD 661: Sustainable Product Innovation & Life Cycle Assessment
W 6-8:30 Sep 27 – Oct 25 (1 credit) 

Once a business has established a sustainability program, developing "green" products through sustainable product innovation can be an important next step.  In this course, students will learn the principles of sustainable product innovation by using life cycle assessment to compare the environmental sustainability of selected products and determining why one product is/is not better from an environmental standpoint than another. 
 
SUST 462 / BUAD 662: Challenges in Executing a Sustainability Program  
W 6 8:30 Nov 1 Dec 6 (1 credit)

As a company executes its sustainability program and markets its "green" products, it can confront a host of external issues such as the sustainable sourcing of renewable materials, environmental impacts of growth, issues around product safety, concerns of NGOs/activists, dealing with competing priorities, etc. In this course, students will gain an understanding of such issues and how to prevent them or address them once they arise.
---
Sustainability Committee Submits Progress Report to Second Nature

"When Pope Francis first visited the United States, one of his primary topics was the collective responsibility of caring for the Earth. We at Xavier believe that this spirit of care begins on campus and radiates out to our homes, communities, state, country and ultimately, the entire world."– Xavier University Annual Progress Report

After months of hard work, Xavier's Sustainability Committee has completed our 2015 Annual Progress Report to Second Nature, the lead supporting organization for the ACUPCC (American College and University Presidents Climate Commitment). The report highlights all of the efforts and achievements made in order to come closer to attaining our Climate Action Plan goals.

With the approval of Father Graham, the report has now been submitted. A comparison with previous reports will help Xavier determine what changes or improvements must be made to continue to be on track for the objectives set in our Climate Action plan. 

The final report showed that Xavier's academic sustainability programs proved to be a great success among students that continues to grow year by year. Xavier's progress has shown the effort by the university in making climate neutrality and sustainability a part of the curriculum, as well as a growing element in our campus culture.

See Xavier's Progress Report on the Second Nature website
 
---
---
---

Xavier MHSA Wins Award for Sustainability in Healthcare Management Education and Practice

Xavier MHSA was selected as the inaugural winner of the CAHME/Canon Solutions America Award for Sustainability in Healthcare Management Education and Practice, recognizing it as the top graduate program for overall sustainability in healthcare management education.

This award recognizes excellence in graduate healthcare management education for sustainability among the CAHME accredited programs. The award includes national recognition for the program plus scholarship funding to the program faculty to further research sustainability in healthcare.

Sister Dr. Nancy Linenkugel, Director, Graduate MHSA Program writes: "The concept of sustainability is more important in healthcare organizations today. It's clear that sustainability is not only important to Xavier University but also it's all something integrated throughout our MHSA program. The Canon Solutions America definition of sustainability encompasses "environmental, fiscal, social, and technological initiatives", so think about sustainability in terms broader than healthcare buildings going green, as our MHSA students must pay attention to all those factors about sustainability."
 
STUDENTS ATTEND OEFFA CONFERENCE



The Ohio Ecological Food and Farming Association hosted their annual conference in Dayton, OH on February 11th and 12th this year. At least three Xavier students attended: Carmelle Wasch, Andrew Hermann, and Caitlin Bonavita. Hundreds of organic, local farms were represented. 

Organic food farmers and producers in the area brought samples of their products for the public, and every sector of the food industry was represented. Specialty stands such as solar and sustainable grain feed were available for farmers in attendance.

There were informational sessions like "starting your own farm business" for those who were just getting into the industry, or "understanding food security" for those who needed to better understand why effective food systems are so important. One particularly interesting session that was offered, was about how solar energy technologies have gone mainstream in the last decade as prices have become competitive with fossil fuel based electricity.  

The first keynote speaker on Friday, Feb 11th was Jim Riddle, who has been an organic farmer for more than 30 years, and educates policymakers in his free time. Riddle served on the USDA National Organic Standards Board from 2004 to 2005, and has since remained an active voice for those in the organic farming community. 

Robyn O'Brien was the second keynote speaker, who came into the organic food sector after experiencing a life changing food allergy with her youngest child. O'Brien has worked hard to expose the food industry for genetic modification, the spike in food related allergies, and the health effects of eating certain foods. 

The organic food market has increased 14% from 2014 to 2015, and continues to be a hot debate topic in the USA. 

OEFFA also has an apprenticeship program.  For more details, visit their website.
Travel Dates May 14-21, 2017
 Stay in beautiful Boulder, Aspen  and Denver areas.   Enjoy daily hikes and mountain immersion experiences.  Visit Rocky Mountain National Park, Chautauqua, National Center for Atmospheric Research, Environmental Defense Fund, Rocky Mountain Institute, Snowmass, National Renewable Energy Laboratory.
EARN 6 CREDITS (courses fulfill core and major requirements):
SUST 465 Topics in Sustainability: Renewable Energy & Economies (3 credits) (ECOS/Sustainability/Business Elective, Environmental Science/Studies Non science elective)
MUSC 108  Music, Love and Death:  The Earth (3 credits) (Creative Perspectives/Fine Arts core, ER/S Elective)
Focus will be on economic development around renewable energy and technology, impact of music and the arts on sustainability awareness, and immersion in the beautiful natural environment in Colorado.
For more info contact: 
Dr. Nancy Bertaux, Professor of Economics & Sustainability  (bertaux@xavier.edu)
Dr. Kaleel Skeirik, Professor of Music & Composition (Skeirik@xavier.edu)
Farmers Talk about the Local Food Economy


WHEN?  Sunday January 22, 2-5 pm

WHERE?  Kennedy Auditorium


WHAT?  A conversation among farmers about how Cincinnati's local food movement has affected their farming practices, bottom line, and hopes for the future. 
WHY?  With the explosion of demand for local food, and the landslide of government and public sector interest in the food economy, we need to hear the clear voices of farmers.  
WHO?  Current farmers (farm owners and employees of farms and organizations) who are actively and personally involved in food production; AND who serve the greater Cincinnati area via CSAs, Farmers' Markets, on farm sales, wholesale supply, or restaurant/store supply are invited to the conversation. 
January 25, 2017
7:00 pm
Kennedy Auditorium Conaton Learning Commons

Join the Bellarmine Chapel Healthy Earth Team for a free screening of Leonardo DiCaprio's new film, as he explores the topic of climate change and discovers what must be done today to prevent catastrophic destruction of life on our planet.

Following the film, Dr. John Sniegocki of the Theology Department will facilitate a dialogue and response.
Refreshments will be provided. Gifts created by the Lakota Sioux will also be on sale, produced by St. Francis Jesuit Mission.
2016
October '16
October 27th Local Bat Expert Informational Presentation 
Kennedy Auditorium, CLC 412
Bats provide important benefits to humans and are particularly helpful to farmers because they control many agricultural pests. However, some Ohio bats are dying due to the disease White Nose Syndrome. Learn about bats and specific things you can do to help support them in your community, from installing a bat box to learning bat friendly gardening techniques. So whether you love bats, are afraid of them, or both, come learn about these interesting animals and the many benefits they provide! Depending on the weather, there may be a short walking tour afterwards of one or two bat boxes on Xavier's very own campus!
October 25  Sustainability Day Panel Presentation 
Climate Justice: The Role of Local Sustainability 
Kennedy Auditorium 
3:30 pm:  Find out more about local sustainability organizations. Information tables will be outside Kennedy Auditorium
4:00 pm:  Panel presentation by local experts
Moderator:      Gabe Gottlieb, E/RS  
Panelists:        Larry Falkin, Cincinnati Office of Environment and Sustainability
                       John Schulte, Executive Director, Xavier Physical Plant
                       Roxanne Qualls, Former Mayor of Cincinnati and Asst. to the Provost for Civic Affairs
                        Scott Burns, President, Global Asset Recovery Programs, LLC, XU adjunct faculty
                        Carmelle Wasch, President, XU Student Sustainability
October 24 Sustainability Heroes Gallery Opening and Reception
Justice Hall ( Mission and Identity Conference Room Opposite Currito Burrito)
Come celebrate the life and values of Father Ben Urmston, S.J., Peace and Justice Champion, (Founder of Xavier's Peace and Justice Programs and professor emeritus.)  Read more about previous inductees to the Sustainability Heroes Gallery.
October 16th Student Sustainability 
Students in Xavier Student Sustainability have been meeting every other Sunday in the Innovation Center (across from Smith Hall) to discuss volunteer opportunities and future projects. The next meeting will be Sunday, October 16, 2016 to sign up for various projects that have been suggested during and between meetings.??On this week's agenda are many projects that students will be signing up for and working on for the rest of the semester so this is a great time to start getting involved.??Everyone is welcome to participate!?? Projects and Events:
Student Sustainability participated in Community Action Day on September 17. We will be participating again in the Take Back the Tap campaign and we're gearing up for tabling in the near future. We are sponsoring the Gorman Heritage Farm program on Ohio bats on September 27. (See story on Sustainability Week for more info.) We also look forward to a screening of the movie Bag It! Which will be sponsored by No Waste Nola, and co sponsored by APEX student club, and Xavier Student Sustainability. There is not yet a tentative date or time, so stay tuned! 
Please contact Carmelle Wasch if you have any questions about Xavier Student Sustainability.
Findlay Market in Evanston
Findlay Market is opening the Evanston Farmstand on Thursdays from 3:00 p.m. 6:00 p.m. starting on June 9 selling fresh produce and products from Market merchants through early October. The Farmstand, a partnership of Findlay Market, the Evanston Community Council and Xavier to bring fresh, healthy, local food to Evanston, is located at the Five Points area at 1614 Hewitt Ave., across from the Recreation Center. Students of Communications Professor Leslie Rasmussen helped create a residential advertising strategy to bring the Farmstand to Evanston.
September '16
September 22 Fall Study Abroad Fair 
This is a great opportunity to find out about opportunities to study abroad while at Xavier. Visit the booth for the Newman Institute, Uppsala Sweden.
This unique program is held in conjunction with students from Loyola University Chicago, and is offered during the fall and spring semesters. The program's course work focuses on sustainability. Students take three classes on global climate change in Uppsala, Sweden at the Jesuit Newman Institute. 
Have lunch or dinner with representatives of the program on Wednesday, September 21!  Mahlin Ahrlin, Project Coordinator for the Environment and Justice program at the Newman Institute in Sweden, and Conner O'Keefe, a former student in the Sweden semester, are going to be on campus.  Lunch will be at noon, dinner at a time to be determined.  Please contact Dr. Kathleen Smythe if you are interested. Capacity is limited. 
For more information, visit the Xavier Center for International Education webpage on the program.
September 17 Community Action Day 
Student Sustainability will participate in this campus wide event where Xavier Community volunteers choose sites to work at for half of the day. We will probably be working at Mill Creek, the same place as in the Spring 2016 CAD. Breakfast, Lunch, and coffee are all provided for student volunteers. (Generally, around 15% of the school volunteers their time on that day.)
National Climate Leadership Summit  June 6-8
The National Climate Leadership Summit brought together more than 100 leaders from student governments, campus environmental organizations, and college administrations to discuss and shape the future of climate leadership.  Each university was able to nominate one student to attend.  All expenses were paid for the students chosen. 
Carmelle Wasch represented Xavier at the conference. She writes: "My experience at the National Climate Leadership Summit was incredibly eye opening and informative, but most importantly led to ideas that could help move sustainability forward on Xavier University's campus."
Read Carmelle's full conference report.
Changes for 2016/17 School Year 
As of August 2016, Xavier Sustainability Club will now be run through the Center for Faith and Justice. Xavier Student Sustainability will no longer have the official title of being a "club", but is thrilled to have access to all of the benefits of being a member of the CFJ community. Although the group will no longer have official club status, the community and support that are now accessible to current and future club members, is well worth it.
The new advisor to the group will be Greg Mellor, with Margaret Groeschen, the previous advisor, cheering from a different side of Xavier Sustainability. Greg has worked with CFJ for almost a decade, and is a valuable asset to both the Xavier community as a whole, and the sustainability program.
April '16
Tuesday, April 12, 7-8:30 PM 
Climate Change Event: How to Achieve Paris Accord Goals
Conaton Board Room, 2nd floor of Schmidt Hall; 
The list of speakers will consist of Anas Malik from the political science department, John Sniegocki from the theology department, Nancy Bertaux from the economics department, and a high level sustainability business representative that will be announced at a later date. In this panel, climate change will be discussed.
In this event, speakers will discuss and explore how we can realistically achieve the goals set by the Paris Accord in December 2015. There will be a panel discussion with Q&A before and after the event and all speakers are open to further discussion after the session.
This event will be complemented with poster board presentations done by students in the ECON 421 lecture class taught by Nancy Bertaux.
Tuesday, April 5, 4 pm
Annual E/RS Lecture: Adam Konopka on Ecology and Ontology
This lecture and discussion explores the philosophical assumptions that underlie the ecological senses of community. Honors Library and Lounge, 3rd floor of Alter Hall. For more information, contact Gabe Gottlieb, gottliebg@xavier.edu
Saturday, April 2, 9-4pm
Canoe the Mill Creek with the Mill Creek Yacht Club
Join the Mill Creek Yacht Club for an excursion down what used to be one of the nation's most polluted waterways! Hear the story of urban stream destruction and reclamation and witness the results of both. Meet at the circle between Smith and CLC for a prompt 9:00 am departure in carpools. There will be a fee of $10 or less for this field trip to cover canoe rental and a trip guide. To sign up, contact Adam Konopka, konopkaa@xavier.edu  
March '16
Monday, March 14, 7:00 pm
Andreas Carlgren
An Environmental Success Story: Sweden
Kennedy Auditorium, CLC
Andreas Carlgen
Sweden is a role model in renewable energy, waste and water management, and consumption of organic food.  As Minister of the Environment, Carlgren participated in several international environmental negotiations on behalf of Sweden as well as the EU. Carlgren is a faculty member on the Environment at the Newman Institute in Uppsala, Sweden, the only Jesuit University in Scandinavia.
Gerald Checco Director of the Metropolitan Sewer Distract of Greater Cincinnati
Monday, February 22nd, 4-5pm
Justice Hall (outside Currito Burrito)
Gerald's story will be introduced and and told by Xavier University student Mark Anliker. The Checco exhibit has been designed by Xavier student Gabrielle Sapata, and photography at the event is a product of Xavier Student Robert Cole. Special thanks to Jonathan Gibson and Kitty Uetz for their hard work and support on this project. 
February 25  Roy Scranton: "Learning to Die in the Anthropocene"
Roy Scranton (Princeton) is an Iraqi vet and one America's rising new and critical voices. He's expanded his widely read and critically acclaimed article "Learning to Die in the Anthropocene" (The New York Times) into a bold new book that examines the age of climate change from the perspective of a veteran. His writing has appeared in Rolling Stone, Boston Review, and The Los Angeles Review of Books, and he is also a co editor of Fire and Forget: Short Stories from the Long War.
Conaton Board Room, 7:00 p.m.
Check out our latest issue of the Sustainability Program Newsletter.
2015
Midwest Regional Sustainability Summit

Friday May 1, 2015 from 8:00 AM to 5:00 PM, Cintas Center at Xavier University
Green Umbrella (GU) is partnering with the City of Cincinnati, Hamilton County, the Greater Cincinnati Green Business Council, U.S. Green Building Council (Cincinnati Chapter) and the Brueggeman Center for Dialogue at Xavier University, to present a daylong conference to share the latest ideas and best practices in environmental sustainability on a regional level.
Highlights of the day will include panels with mayors and sustainability directors from Ohio, Indiana and Kentucky and breakout sessions to explore specific areas of sustainability with industry leaders. The Summit presents knowledge that attendees can use: successful ideas, new trends, and amazing ingenuity. Student registration is only $10.00.

A Special Goodbye to our First Graduating Seniors in the Sustainability Program!

Michael Murray has been studying economics and sustainability.  He hopes to use his data analysis skills to work in a quantitative way on problems facing society, and has accepted a post graduation position as a Data Scientist in the Nielsen Company's Emerging Leaders Program. He'll work in Chicago and two other major cities over the next two years.
Joe McGrath will be receiving a BSBA in Sustainability. He has studied economics in Ireland and has held internships at the Flying Pig Marathon and the Civic Garden Center. He is currently working on local food issues, and he has accepted a post graduation management position with Macy's.
Mark Miller is a double major in sustainability and mathematics. He studied abroad in India on Xavier's semester long service learning program, and would like to work in the area of sustainability policy.

XU Class Partners with Flying Pig Marathon and Taking Root Campaign to Plant Trees

In Spring 2015, a Xavier University economics class, "Environment, Economics & Policy" has worked on a class project with the Flying Pig Marathon, focused on their "green event" re certification. Professor Nancy Bertaux explains, "Students have really risen to the challenge.  They have calculated the marathon's carbon footprint, organized "carbon offsetting" (offsetting the carbon emissions associated with the event with activities that absorb CO from the atmosphere), and conducted innovative analysis of greener transportation to and from the event.  Students also organized first time use of renewable energy for the marathon, including Dovetail Solar donating use of a solar generator, and Xavier donating use of a solar golf cart.

 

As part of the carbon offset study, students focused on the planting of trees here in the Cincinnati area, and initiated a partnership with the Flying Pig Marathon and the Taking Root campaign of Cincinnati (Taking Root seeks to plant 20 million trees in the area by 2020, and includes some 18 partners, including Hamilton County Parks, the Cincinnati Zoo, OKI Regional Council of Governments, Green Umbrella, and many more).  As a direct result of this XU Flying Pig Taking Root collaboration:
There will be a kick off tree planting event on Saturday, April 25th at 1:30pm on just east of the intersection of Adams Landing and Riverside Dr.  Xavier students and officials of the Flying Pig Marathon and Taking Root will all be present. 
The XU Flying Pig Marathon Taking Root partnership will continue and grow, with the following plans:

a larger planting on "Make a Difference" Day (Oct. 25, 2015), paired with the Queen Bee half Marathon, which the Flying Pig office directs.
"26 Trees for 26 Miles": This program will involve planting at least 26 trees each year, throughout the course of the marathon, through coordination with 17 different neighborhoods.
donations of a large number of saplings for distribution to marathon participants in 2016 are being sought.

"Invested in Change: Climate, Capital and the Power of Collaboration"

Join us on Wednesday, April 29 at 8:00 PM at the Cintas Center as we convene a panel of thought leaders from the corporate, investment, academic and NGO communities to discuss practical solutions and approaches to finding and funding climate change solutions.
A weblink with downloadable PDF can be found here.

Sustainability Study in Peru, Spring Break 2015

"The worse off a country's economy is, the direr their water situation seems to be. In Peru, this was extremely evident from day one. Small children were drinking muddy water while oil refineries watered their lawns in deserts. Freshwater has been apart of Peruvian culture since before it was a country, dating back to Incan "Water Gods". Not all aspects of Peru's water situation is devastating; some towns are run completely on hydroelectric power and even the poorest do what they can to protect this beautiful planet. The country of Peru has some of the dirtiest water in the world, yet seem to be making some of the greenest efforts."   Emily Mulligan, class of 2016

The Joe Peschel, SJ Award  will be presented to Nancy Bertaux, Professor of Economics & Sustainability, at the 17th Annual Labor Religion Dinner Dialogue, 4100 Colerain Ave., 5:30 PM on Monday,  April 13, 2015.  The event benefits the Cincinnati Interfaith Committee on Worker Justice. Each year  the Fr. Joe Peschel, S.J. Award is presented to someone from the Greater Cincinnati Area whose efforts on behalf of worker justice deserve recognition and commendation. The Committee states, "Dr. Bertaux's research and lectures have contributed to deepening our understanding of the impact of income inequality on working families." Congratulations to Dr. Bertaux!
Next year, the Sustainability Committee is planning a Consumption Justice Sustainability Series, and we plan to work together with the Brueggeman Center, the Ethics/Religion and Society program, and the Institute for Spirituality and Social Justice on speakers for fall and spring.  This series will challenge our thinking and practices around consumption, which currently drives our economy, but is having profoundly negative effects on the natural world.
Greater Cincinnati Green Business Council Wins 2015 Green Advocacy Award

The Greater Cincinnati Green Business Council is composed of some of the leading companies in Greater Cincinnati, including Xavier University. The annual award from the Cincinnati Business Courier and the Cincinnati Regional Chapter of the U.S. Green Building Council  recognizes an organization that provides educational awareness about sustainability, GCGBC was presented the award in the nonprofit category in recognition of their waste management initiatives at a ceremony held on March 5. See the entire press release about the award.
Right: Sustainability Director Ann Dougherty and Professor Nancy Bertaux appear with other members of the council (wearing green, of course!).

Fast Charger Now at Xavier

Xavier now has a new fast charger near the main entrance to the Cintas Center.  The station can recharge the average electric car in about 20 minutes.  This unit was made available through a grant from Nissan. Stations have also been installed at the Cincinnati Zoo, Findlay Market, UC, and Cincinnati State. Dr. Nancy Bertaux was one of the speakers at the unveiling event at the Zoo on April 7. See her remarks.

Earth Week 2015, April 20 25, Mon-Sat. Join us!
Capital, Climate and the Power of Collaboration, 5:30 8 pm, Wed April 29, at Cintas Center Hall of Fame. Registration required. 
Student Sustainability Intern Applications due March 20! 
NEXUS Community Garden 2015 applications are available now.
We have lots of sustainable fun planned for Spring Semester! See what field trips we have planned and join in on the fun!
Check out our latest issue of the Sustainability Program Newsletter
Check out Part 2 of the Alter Hall Sustainability Story to see the green future of Alter Hall.
2014
Sustainability Annual Update: It goes without saying that our collective work is a reflection of the commitments and passion of many on this campus. At its best, sustainability is integrated seamlessly with the Jesuit mission, as one factor among many driving its operations, education and plans. This is the overarching goal for all the work we do.
2013
Showing of the documentary Coming to Ground on Wed April 10 at 7 pm in Kelly Auditorium 
Earth Week 2013 March 4-6
Sustainability Intern Applications due Friday, March 22 at 5 pm
Upcoming Event: New Majors in Sustainability Info Session February 20 @ 3-4 pm in Smith 344
New Sustainability Majors at Xavier! For more info, contact Dr. Nancy Bertaux, Professor, Economics Dept., Williams College of Business
Applications for Sustainability Mini Grants due Friday, February 15, 2013
2012
Applications for Sustainability Mini Grants due Fri Feb 15, 2013
New Summer Sustainability Course: HIST256, Bicycling Our Bio region Info Session on Dec. 5
Sustainability Days 2012 are September 26 and October 8, 2012. Talks, tours, bike rides, book clubs, & plays!
Silent Spring at 50 Workshop, Monday, May 7, 2012
2011
Parking Forum: "We need to re think comm unity and commuting."

The Parking Forum held on October 24, 2011 was sponsored by the Sustainability Committee, and organized by committee member Doug Olberding of Sports Management. The purpose was to challenge the status quo here at Xavier University, Olberding explained. If we truly want to be a green sustainable campus, we need to re think comm unity and commuting. Speakers presented a range of concerns. Bob Sheeran of Physical Plant showed aerial photos of available parking on campus. Liz Blume of Community Building Institute challenged our commitment to public transportation and urban density. Kevin Tighe of Student Government Association asked if Zipcar would work on campus. Jim Tracy of Cintas Center described the parking needs of the center on basketball game nights close, numbered and reserved for ticket holders. In the next weeks, each of these presentations and others will be highlighted in separate postings. In our final post, next steps for public transportation and commuting options will be presented. To view Professor Olberding's Prezi for the Parking Forum, showing the questions that we need to answer, click here for Prezi Parking Forum.

Xavier Welcomes New Sustainability Coordinator

The Sustainability Committee is pleased to welcome Ann Dougherty, our new Sustainability Coordinator to campus. She joined our community on October 24. Current co chairs, Dave Lococo and Kathleen Smythe will work closely with her for the remainder of the year as she transitions into her new position and we adjust our roles within the Committee. Ann brings a remarkable range of experience to this role. She is a professional engineer with a Masters in Manufacturing Engineering and work experience as the director of environmental and process technology with Portland Cement Association. More recently, she has been the founder/owner of Learn Great Foods Co., a food knowledge business offering culinary farm tours and retreats in five Midwest states. She has written and lectured on a variety of topics related to agriculture, tourism and entrepreneurship as well as industrial ecology, air emissions and safety in the cement industry, and rotary kilns. Ann is witty, talented and perhaps as impressed by us as we are by her! I am honored to be on staff at this unique institution, and look forward to working with everyone, she smiles. We welcome you, Ann, to our community and our collective efforts. Her office is in Alter Hall Rm. 104A 1 and you can reach her at doughertya@xavier.edu or ext. 1938.

Sustainability Committee Hosts Parking Forum

Join a diverse group of people from the University (Physical Plant, Cintas Center, Commuter Council, SGA, CBI, Faculty Committee and the Sustainability Committee) to discuss future ways that we might better serve the parking needs of Xavier faculty, staff, students, and Cintas guests while also achieving sustainability goals for a reducing groundwater runoff; reduced use of private vehicles by faculty, staff and student; and making room for more green space and new educational initiatives. Reworking our parking and transportation models will be among the most challenging tasks we face as a community, so come join us as we begin to craft a vision for a greener, healthier, and more civilly engaged parking and transportation infrastructure. The discussion takes place Monday, 24 October from 3-4:30 pm in the GSC Theater.

Last spring three students created The Xavier University Guide to a Green Cincinnati as part of a class assignment. The 22 page Guide contains facts about Xavier's sustainability progress and practical information about alternative transportation, where to find local food and locally owned businesses and how to reduce energy use both in dorm rooms as well as the dining room and much more. Today, September 16 the guide is being electronically distributed to all Xavier students in the residence halls. All students, faculty and staff can locate it on our sustainability website at http://www.xavier.edu/green/students.cfm. Elle Ross, a Student Sustainability Intern, will be updating the Guide for next year, so please pass along suggestions to her at rosse2@xavier.edu.
2010
Xavier University Employees Win Sustainability Award

Phil Taylor and Doug Hanson in Technology Support received the 2010 Lamplighter Award from the Cincinnati Computer Cooperative (CCC) this summer.

Walt Fischer, Cincinnati Computer Cooperative board chair; Judy Molnar, Xavier University director of technology support; Phil Taylor, Xavier technology support engineer and Doug Hanson, Xavier technology support engineer.

Xavier University has been donating our out of cycle computers to the Cooperative for the past four years. They are refurbished and then donated to schools, students, senior citizens or people receiving state or federal assistance. Donating the computers to CCC saves the University money as well, since we don't pay anyone to dispose of our old computers.

Even more remarkably, eighty five percent of the equipment CCC receives is recycled. Parts that cannot be reused go to certified end of life recyclers after the hard drives have been removed and crushed. Nothing goes overseas or into landfills. This is a remarkable achievement as eighty per cent of electronic trash (including computers but also cell phones and other items) end up in suburban dumps overseas where those without other opportunities seek to recycle what they can and try to retrieve data from hard drives. What can't be used eventually gets burned, releasing often precious and toxic chemicals into the air, water, and soil.



College of Arts & Sciences Sustainability Goals

A few months ago, we reported on steps that the Division of Student Life and Leadership has taken to implement elements of the Campus Sustainability Plan into their short term and long term goals. Recently, Janice Walker, Dean of the College of Arts and Sciences, submitted six goals to the President that she and others in the college will be focusing on this year, including inviting a member of the Sustainability Committee to her annual fall Chairs' retreat and providing three modest grants next summer for faculty to revise or create courses addressing sustainability issues. Most other divisions are working on similar processes and you will see updates on their progress from time to time over the course of the year. To learn more about the Campus Sustainability Plan and what you can do to be a part of the efforts to achieve Xavier's goal of carbon neutrality, please visit www.xavier.edu/green

Sustainability Coordinator Hiring Committee Named

A new Sustainability Coordinator position has been approved for this fiscal year. The Sustainability Committee named a hiring committee recently, comprised of Committee members and two University representatives, one from Biology and one from Student Life and Leadership, with whom the Coordinator is likely to work closely. The members are: Dave Lococo, chair (Physical Plant and Committee); Carol Reid (SLL); Dottie Engle (Biology); Dan Marschner (Admissions and Committee); Laura Wallace (student and former Sustainability Intern). The position will report to Dave Lococo, Exec. Director of Physical Plant. The Coordinator's office space, however, will be more centrally located to facilitate contact with students, faculty and staff across the University. The timeline calls for making a final selection by the end of August.

YSU Sustainable Energy Forum

Carbon Vision presented at the YSU Sustainability Forum on the afternoon of June 8 on the topic of the financial and educational benefits of solar installations at schools and colleges. The prior week Carbon Vision and Youngstown State entered into an Agreement in Principle for the installation of a 60 KW Solar PV system on the rooftop of the University's Moser Hall. Ohio U. S. Senator Sherrod Brown, Youngstown Mayor Jay Williams and Dr. David Sweet, President of Youngstown State University were all in attendance at the signing of the Agreement for the solar installation. Dr. Martin Abraham of the YSU College of Science, Technology, Engineering, and Mathematics (STEM) announced that the installation would also include a solar panel rooftop racking system supplied by the local Youngstown based company, Northern States Metals. This project combines green energy, local jobs creation, and renewable energy instruction for students.

Click here for WFMJ video coverage of this event

Ohio Passes New Financing and Tax Legislation for Renewable Energy Projects

On June 17, 2010, State Legislation in the form of Senate Bill 232 was signed into law by Ohio Governor Strickland. SB 232 eliminates the tangible personal property tax and energy generation tax on advanced energy projects in the State. These taxes were a significant disincentive to renewable energy projects. Their elimination helps the State extend its leadership in the emerging energy market and will assist in the creation of more new jobs in this sector. The Bill exempts renewable energy systems installed between 1/1/2009 and 1/1/2012. Eligible renewable energy systems which qualify are also those that meet Ohio's Alternative Energy Portfolio Standard and include solar, wind, hydroelectric, geothermal, biomass, fuel cells, and energy derived from solid waste. Projects must create a certain amount of Ohio jobs to be eligible. Additionally, projects larger than 5 MW in scope must obtain approval from their local County Commissioner for the tax exemption to take effect. Projects with a nameplate capacity of less than 250 KW will be permanently exempt from personal property taxation.

SB 232 also expanded eligibility for creation of Special Improvement District (SID) Financing. SID financing for Ohio was initially authorized in July 2009 when Ohio House Bill 1 was signed into law. It permits property owners to pay for the costs of certain projects through their real estate taxes with payback durations of up to 30 years. Until recently, these projects were limited to solar, but SB 232 expanded the SID, or Property Assessed Clean Energy (P.A.C.E.) financing to include energy efficiency, solar PV, solar thermal, geothermal, wind, biomass, and gasification technologies. Currently the City of Cleveland and 16 suburbs are working to enact specific legislation for PACE financing in their respective municipalities. The 16 cities are all member cities of the First Suburbs Development Council.

What this means for property owners:

Combined with current state and federal incentives, the use of PACE financing allows property owners to install a renewable energy system with virtually no up front costs. The portion of the system cost not covered by cash incentives or tax credits can be paid for over an extended duration of up to 30 years by adding the costs to your existing real estate taxes, making it more affordable than traditional borrowing. The First Suburbs Development Council is working with the Cleveland Port Authority to generate the first $5 Million of PACE financing availability.

Reference:http://www.legislature.state.oh.us/bills.cfm?ID=128_SB_232

SOURCE:
Carbon Vision, LLC Newsletter, Vol 3, June 2010
Carbon Vision, LLC | 20600 Chagrin Blvd | Suite 1100 | Shaker Heights | OH | 44122

Celebrating the twentieth year of the conference, this year's AJCU Facilities, Public Safety & Sustainability Conference will make an historic mark, adding Sustainability for the first time. It will take place at Xavier University from April 18 21, 2010. 

For more information, visit the 

conference web site here

.
2009
Report: 2009 Sustainability Lunches Feedback

Xavier's Sustainability Committee hosted four open lunch discussions over the spring semester 2009. These events were conducted with support from the Office of University President Michael J. Graham, S.J., and had two primary goals: to share with the Xavier community the results of the University's greenhouse gas inventory, and to begin a collective dialogue about where we are now as an institution and the directions we want to take in creating a more sustainable campus.

In all, more than 90 people attended these discussions. They contributed information concerning sustainable actions already underway in their particular areas of the University as well as thoughts and ideas concerning actions the University could or should take in the future. Their ideas were collected and recorded, and will be reviewed this fall as the committee drafts the Campus Action Plan to achieve climate neutrality.

Here's a look at some of the sustainable actions and ideas that came to light during the lunch discussions. It's important to note that the current actions listed reflect the efforts of individuals or groups of individuals in one or more areas of the University and are not as yet campus wide efforts.
Current Actions:

Some offices are working to reduce paper mailings, to rely more on electronic communications, to use paper with greater recycled content and to recycle more paper.
The Student Government Association is working to make double sided printing more readily available.
The Office of Student Involvement is working to use two sided copying as much as possible.
The Office of Student Life works to ensure that everyone has access to a recycling bin
Physical Plant installed energy efficient lights, dimmer switches and motion detectors to control those lights.
Physical Plant installed low E windows and upgraded to more efficient equipment.
The new Hoff Academic Quad is being constructed to meet LEED Silver specifications.
More bike racks have been placed around the campus.
The O'Connor Sports Center provides shower facilities for those who walk or bike to work.
Some employees report turning off lights and computers when leaving the office at the end of the day.
The O'Connor Sports Center staff turns off all equipment at night.
Peace and Justice Programs hosts weekly vegetarian meals with reusable dishes and has launched a community gardens program.
The McGrath Health and Counseling Center encourages everyone to bring their own water bottles for refilling.
The Office of Student Involvement hosted a rummage sale and sponsored their own green day during which they served organic food.

Suggestions for the Future

Create a bike loan program.
Use the student shuttle to reduce student use of cars around campus.
If parking becomes fee based, offer a discount for those who carpool or use other sources of transportation.
Promote carpooling.
Add an employee benefit option of paid or discounted Metro passes.
Explore the possibility of flexible work schedules and telecommuting.
Allow employees to work from home one or two days per week.
Integrate environmental issues into the core curriculum.
Post signs around campus highlighting the environmental initiatives under way and their impact on Xavier's carbon footprint.
Meter energy use in all buildings.
Keep buildings warmer during the summer and cooler during the winter.
Add locally grown, organic food to choices in the cafeteria.
Many attendees commented on the campus' low rate of recycling and the need for better education and more publicity around Recyclemania.
Do all interdepartmental charges electronically.
Promote toner and battery recycling.
This is just the beginning of our sustainability journey together. Thanks to everyone who took the time to participate directly. And, to any who did not have a chance, feel free to discuss your ideas with any of the committee members.
Dave Lococo
Sustainability Co chair