Come Check out Xavier's Farmers Market!
Fall Semester 2016
The market is in Bellarmine Circle from 2-5pm
August 29, 2016
Sept. 12, 2016
Sept. 19, 2016
Sept. 26, 2016
Oct. 3rd, 2016
Oct. 10th, 2016
Made possible by the generous sponsorship of Women of Excellence, the Farmers Market entitled "Creating a Space to Grow Our Food System" is Xavier's sustainability effort to promote eating local foods and supporting local farmers. This exciting initiative fosters education and experience for Xavier students, faculty, staff and its surrounding neighbors. Access to high quality food is essential for every community. At this time a re-emphasis and relearning of our local food economy is in full swing! Xavier is a part of that!
The Farmers Market serves students, staff, faculty, and Xavier's surrounding communities. It gives quality access, food knowledge and food system experience to those who study, live and work in and around Xavier.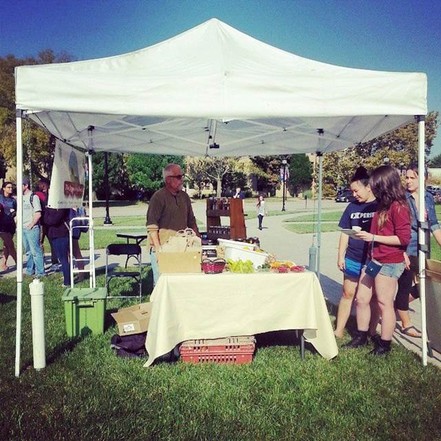 Each market will have several vendors including Xavier Urban Farm, Organic Farm at Bear Creek, and yummy ice cream from Street Pops! Come for the fresh food, but stay for the awesome entertainment such as music, dancing, yoga sessions, cooking demonstrations, and much more!
Findlay Market in Evanston
Findlay Market is opening the Evanston Farmstand on Thursdays from 3:00 p.m.-6:00 p.m. starting on June 9, 2016 selling fresh produce and products from Market merchants through early October. The Farmstand, a partnership of Findlay Market, the Evanston Community Council and Xavier to bring fresh, healthy, local food to Evanston, is located at the Five Points area at 1614 Hewitt Ave., across from the Recreation Center. Students of Communications Professor Leslie Rasmussen helped create a residential advertising strategy to bring the Farmstand to Evanston. Feel free to stop by the Grand Opening starting at 2:30 p.m. on June 9.