For Students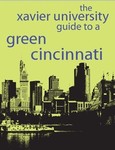 Check out the Xavier University Guide to a Green Cincinnati created for students by students with tips on how to live sustainably on or off-campus.
Join the Sustainability Club and help create tangible change on Xavier's campus.
Practice sustainable habits in your dorm or apartment: take shorter showers, turn off the lights when you're not in a room, unplug energy vampires (chargers and electronics with lights that shine even in the off position such as TVs), don't run your air conditioner when you're not home, switch to CFL light bulbs, and more!
For Faculty & Staff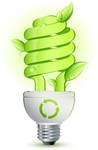 Take a look at the Green Office Guide for tips on how to promote a sustainable workplace. You can also order a recycling bin for your office by calling x3151.
Take the Green Umbrella Energy Challenge this winter, and take advantage of the Green Umbrella/Greater Cincinnati Energy Alliance/Xavier partnership to do an energy audit on your home and receive incentives for energy conservation measures.
Sustainability Pledge
By committing to do at least one action in each of the following categories, I am joining others to help create a more sustainable Xavier.
I pledge to reduce my energy use.
Turn off lights and appliances when I'm not using them
Unplug appliances that I don't often use
Replace my regular light bulbs with compact fluorescents
Change my thermostats a few degrees (down in the winter, up in the summer)
Combine my errands to reduce car trips
Take public transportation/walk/bike/carpool to campus at least one day a week
Learn how to power my home with "Green" power and do it.
I pledge to reduce the waste I produce.
Use scratch paper for notes and print/copy double-sided
Take my own shopping bags to the grocery store
Use my own water bottle and coffee mug every day
Buy items in bulk and items with minimal packaging
Recycle everything that I can and responsibly dispose of my electronic waste.
Sign up to receive all my bills online, rather than in the mail
Sign up for the Directmail.com National Do Not Mail List
Provide and encourage recycling at the events I plan (meetings/meals/parties)
I pledge to develop more sustainable habits.
Eat vegetarian more often and reduce my consumption of meat and seafood
Buy organic produce and visit the farmer's market near Xavier or my home
Think twice about making a purchase. "Do I really need more stuff?"
Buy products composed of organic and/or recycled material
Use less water when I wash dishes/brush teeth, take shorter showers
Support fair trade, shade grown and organic coffee
Learn as much as I can about sustainability and teach others
I pledge to lead by example.
The Xavier Community
Members of our community have shared their own tips for living sustainably, from taking the bus to using less harmful cleaning products. Their contributions are featured below.