Chronicle
The Xavier University Rec Center Butterfly Urban Farm was started in February 2013, with a meeting held with visiting sustainability leader Craig Schiller. Ten participants, including students, professors and neighbors helped design a small farm area that would serve the university's needs. The resulting design included six raised bed boxes, small hoop house, and seating area for classes, meetings, and recreation.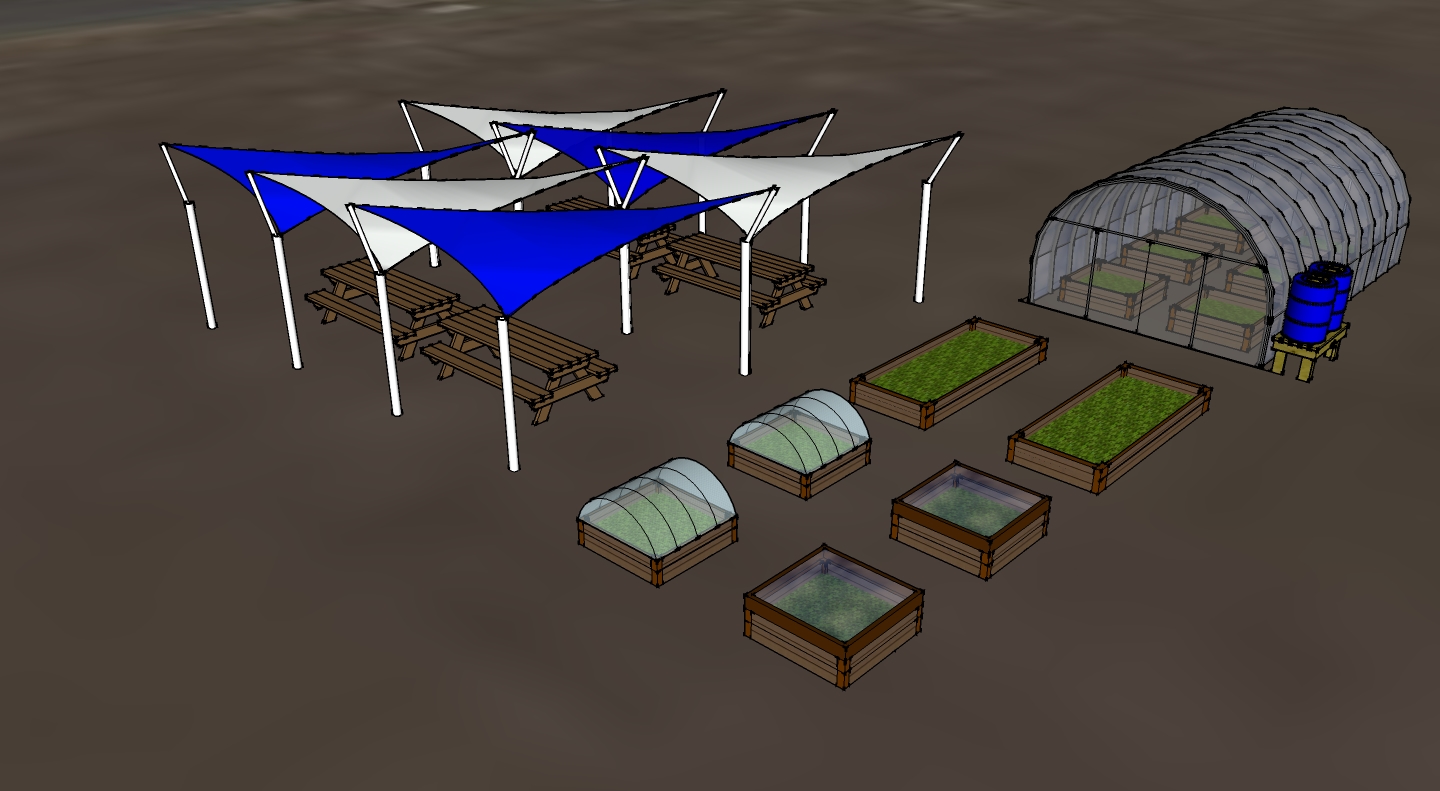 March 2013: Community Action Day. Twenty students built six raised bed boxes, using recycled wood and kits prepared by the Physical Plant carpenters for student use.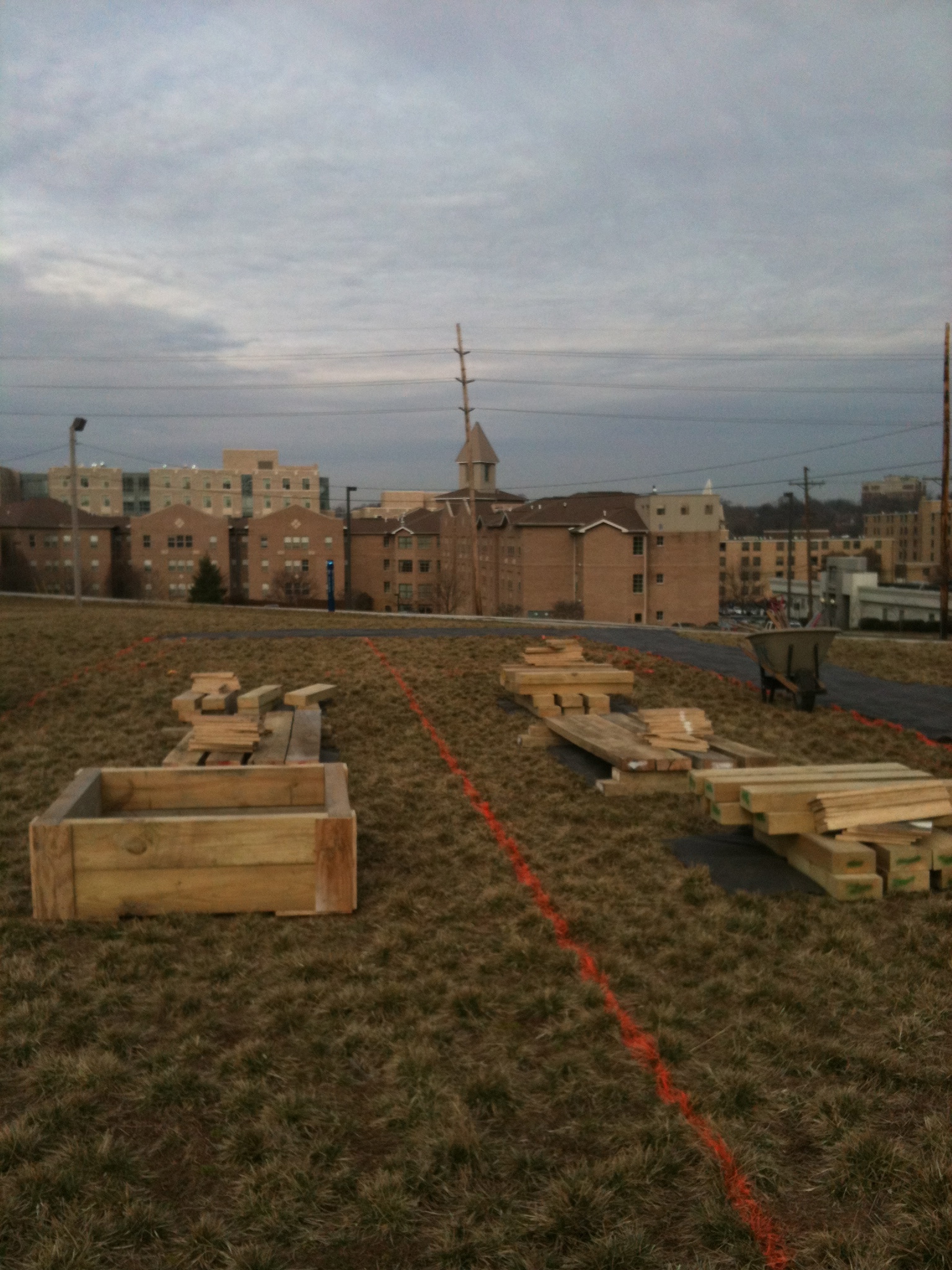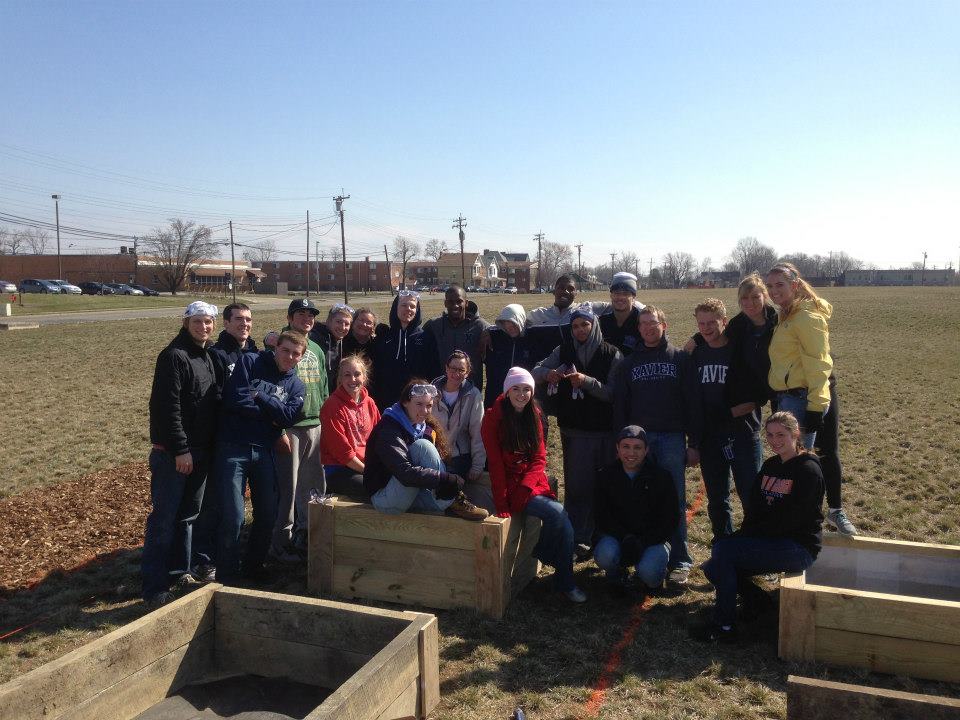 April 2013 - Plant craftsmen Phil, Brad, and Steve constructed the Hoop House. Many Physical Plant staff consulted.
May-July 2013 - Meetings were held with farmer Kevin Fitzgerald of Urban Greens to discuss crops and water, and meetings were held with non-profit OMID Board members to discuss using solar panels to move water and drip irrigate.
August 2013 - Forty yards of compost are purchased from Compost Cincy, one of three farm/composters taking Hoff Dining food scraps to make compost (since December 2011). Plant craftsmen install water meters and lines. Week of Welcome "Fun and Food at the Farm" party is hosted by Sustainability Club. Tours of Earth Tubs, NEXUS and farm are given by Club members and construction managers from Physical Plant. Grilled peaches and pizza were served.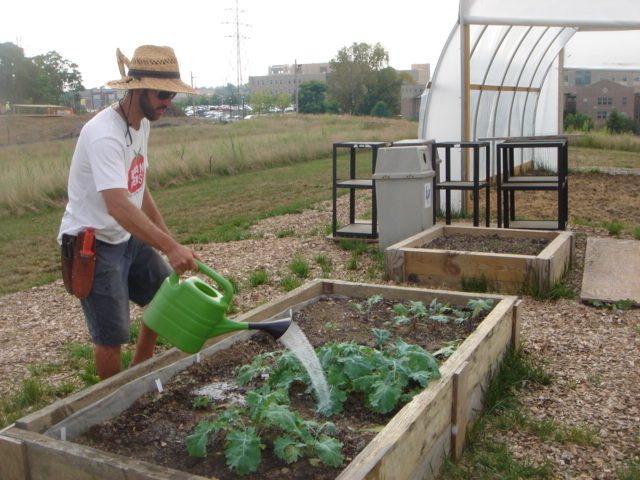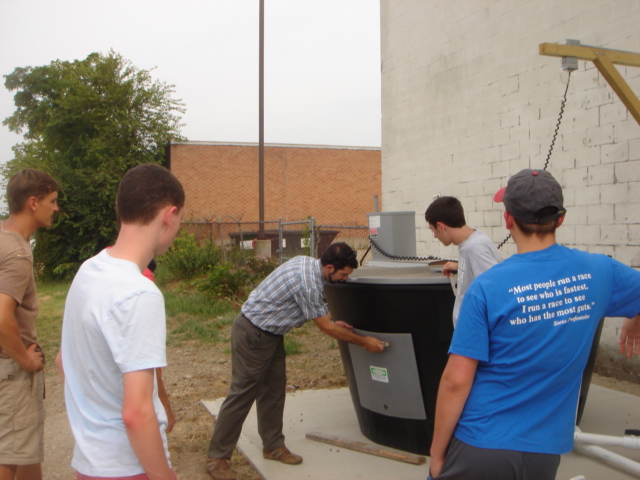 September 2013 -Forty yards of soil are purchased from Hafner & Sons.
September - December 2013 - Planning for Community Permaculture Garden Design project with XU Alum Linda Spear and permaculture expert Braden Trauth of OMV Permaculture.
January - April 2014 - Permaculture Design Meetings with community for Victory Garden (The "Beach") along Victory Parkway, north of Hayden Baseball Field. Permaculture Garden Design Meetings: Working with permaculture specialist Braden Trauth and local community, students and food and farm activists, a beautiful garden was designed. Bi-monthly meetings were held the second and fourth Tuesdays during March and April 2014: March 11 and April 8, Alumni Building, Basement, Deco Diner, and March 25 and April 22, Gallagher Student Center, Clock Tower Lounge. All meetings were 6-8 pm, potluck dinners, which usually extended until 9 pm and later! The North Avondale Neighborhood Association (NANA) supported the building of the garden in a letter to the City of Cincinnati Parks District sent in September 2014. No action has been taken (as of February 2015) by the Parks District.
More Information and Directions
The Xavier Rec Center Butterfly Urban Farm is sponsored by the Sustainability Committee & Office of Sustainability. All are welcome! The hoop house is available for use by classes and clubs and for tours; please contact Physical Plant at x3151
The Urban Farm is located behind (east of) the Commons Apartments, across from the McGrath Health Center on Cleneay Ave. Walking paths to the hoop house branch from behind Smith Hall, from Cleneay Ave. by McGrath, and also from the Wasson Way pedestrian/bike path behind the Commons Apartments.