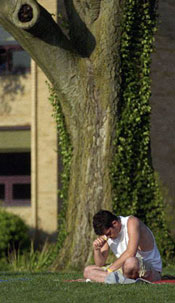 Xavier Student Sustainability (XSS) provides students with the opportunity to create tangible change on Xavier University's campus in relation to sustainable issues. XSS is now run through the Dorothy Day Center for Faith and Justice. It will serve as the main student connection to the Sustainability Committee as well as a key educator of sustainable efforts geared towards the student body. Membership is open to all Xavier students!
Check out more events and join our email list here!
XSS (Xavier Student Sustainability) Board continues the important work of the Sustainability Club which transitioned into a program in the Center for Faith and Justice (CFJ) last semester.

The XSS Board consists of 9 students and will work with a faculty advisor in the Center for Faith and Justice.

The Board will seek to promote sustainability on Xavier's campus through education and action opportunities open to the general student population.

The XSS Board will also collaborate with Xavier's Sustainability Committee.

New XSS Board members for the 2018 spring semester are:
Margot Bond
Kylie Joines
Molly Onders
Sarah LeMay
Connor Scherer
Jonathon Duffy
Sam Settlemyre
Hugh Schmelzer
Kimberly Zenteno

Roles and responsibilities of XSS Board members include:
attendance at bi-weekly (every other week) XSS Board meetings,

attendance and facilitation of bi-weekly XSS meetings (open to all students), attendance and active support at XSS sponsored events,

leadership and oversight of one XSS program initiative (examples include campus recycling, one-time events, campus bike co-op, communication and PR).
What We Do
Plan and host events such as Dance & Grow Green, Sustainability Week, Earth Day, Green Fair and Recycle Mania
Learn about Xavier's sustainable features and come up with ways to share that information with the rest of the community
Converse about current sustainability issues happening on and off-campus
Get involved with sustainable initiatives like Bike XU and the NEXUS Garden
Develop and execute our own semester- and year-long projects