Eigel Center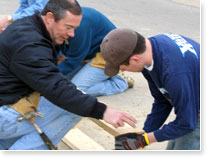 The James and Delrose Eigel Center bridges the gap between Xavier and the broader communities that surround us. The Eigel Center encourages students, faculty, administrators and staff to engage in partnerships with our neighbors and promote service oriented student learning.
One of the many activities that are overseen by the Eigel Center is the Norwood Evanston Xavier Together (NEXT) Partnership,
a strategic plan connecting the community revitalization objectives of Evanston and Norwood with the resources of Xavier University.
For more information about the Eigel Center, visit http://www.xavier.edu/eigelcenter/.