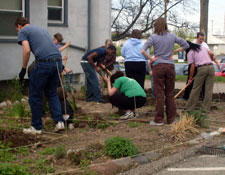 Buy local. Compost. Victory gardens. Organic. In the past year or so, these terms have "taken root" in our societal consciousness. Literacy of these concepts and implementation of these practices is "sprouting" all around us especially as Spring comes to life. This is a thrill for someone such as myself who has been "cultivating" these practices in small ways through experimentation and engagement over the past several years.
I've had the privilege of participating in community garden initiatives from Bolivia to Alaska to Detroit and now right here in my own backyard at Xavier. That's right, Xavier has its very own community garden this growing season! It doesn't likely look any different to most behind Peace and Justice Programs this Spring, the new home of the Just Off Victory Community Garden, but if you'd stop by on Thursday afternoons, you'd see a mixture of Xavier students, faculty, staff, and even a few children working together to bring this plot of land to life. In its pilot year, there are 27 participants bridging departments and offices as diverse as Theology, Project SEARCH, and International Student Services.
The difference between this years' garden behind the Dorothy Day House and those in past years are the community building and educational aspects of its design. Although the American Community Gardening Association defines a community garden as simply, "any piece of land gardened by a group of people", the space and the process have a much more powerful potential than solely the growing of food for consumption. Community gardening builds common ground on several levels. A sample of the myriad of benefits possible, according to the Community Food Security Coalition, include:
Health: Consumption of delicious-tasting fresh fruits and vegetables and the good exercise involved in gardening activity promote better health.
Ecological: Gardens provide green infrastructure and habitat, promote biodiversity, divert storm water, and, most importantly, contribute to alleviation of global warming.
Social and cultural: Research indicates that communities with high-participation gardens and farms see not only greater community participation, but also reduced crime rates, higher voter registrations and increased civic responsibility.
Food security: While currently limited, gardens do provide food for the hungry. The decentralization and proximity of community gardens strengthens overall security of the food supply.
Economic/Entrepreneurial: Families may stretch their budgets through urban food production. Also, community gardeners may sell their produce at local farmers' markets find other was to profit from what they grow. Gardens beautify neighborhoods and increase property values.
Educational: Gardening provides a tie with the land, the seasons, and how things grow and develop.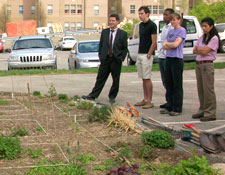 A community garden on Xavier's campus is a great way to experientially live the mission and set a quiet example of life in harmony with one another and the world around us. Caring for the earth in a garden of our own serves body, mind, soul, and community. The nature of our society, of which Xavier is a microcosm, lives day to day very much disconnected from the earth that provides our nourishment, the natural world that makes growth possible, the farmers and farm workers that pick and transport our food, and the immense amount of resources that go into the functioning of our now global food system. A community garden like Just Off Victory strives to reconnect participants and observers with our food source and to reduce the distance that food must travel from farm to table, allowing connection to one another and the land to increase and our collective carbon footprint to decrease.
Because of limited space, time, and resources, the plan in this initial year is not about food production. Rather, this pilot season represents the opportunity to build a model that can be replicated or increased in scale and to organize and educate a core group of participants who come to build their skills, increase their well-being, and come to know one another in the process. The ripple affect on our campus is inevitable, exciting, and immeasurable at this time. The hope is that community gardening as it evolves here on campus serves as a key component in Xavier's actions toward environmental sustainability.
If you wish to be involved in our current and expanding community gardening efforts here on campus through the upcoming educational series or planning for the coming years, please contact me to join the list that is literally "growing" each and every day.
Molly Robertshaw
Peace ands Justice Programs