Central Utility Plant (CUP)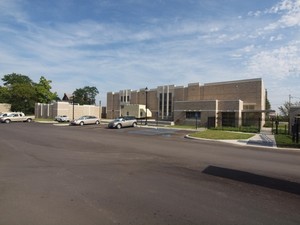 The Central Utility Plant (CUP) is located on Dana Avenue near Physical Plant. The name is derived from the fact that utilities for many of the buildings on campus, including Conaton and Smith, are transported from one central location. The C.U.P. sends chilled or heated water to the buildings and the water is returned to the C.U.P. after making its rounds, with most pipes underground.
The centralization of utilities makes them easier to monitor, which allows us to effectively measure our utility usage. Also, the C.U.P. was designed in a way that left some extra room in case we ever need to expand our machinery (such as adding Cooling Towers, shown right), which means less construction will be needed if the University decides to expand further.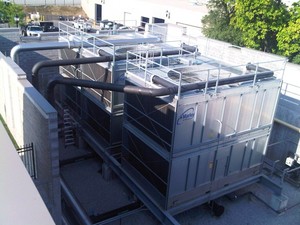 Finally, the machinery in the C.U.P. is very efficient, saving a significant amount of money and resources. Chemical-free water treatment for the Cooling Towers saves over one million gallons of water per year. The Building Management System optimizes air quality and minimizes energy consumption. Overall, the high efficiency equipment reduces energy consumption by 17.5%. Like Conaton, Smith, and Fenwick, the C.U.P. meets Silver status LEED requirements.
For more information about the C.U.P. as well as other sustainability initiatives by the Physical Plant department, please visit the Physical Plant website.