Bike Racks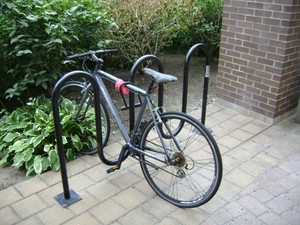 With over two dozen bike racks and clear paths through campus, it's easy to navigate through Xavier on bike. Bike racks are conveniently located right outside our buildings, from Gallagher Student Center and Fenwick Place to the dorms and academic mall. Never worry about parking again there's always an empty spot just a few feet away from your destination!
Don't have a bike Check out Bike XU, a bike rental program for Xavier students on a semester basis.
Don't forget to fill up your reusable water bottle at the water refill stations in Gallagher!
Check back soon for a map with the locations of all the bike racks on campus!
Biking in Cincinnati
The Cincinnati Bike Plan is a map with user-generated tips on bike-friendly areas in Cincinnati. The map shows you where the safe routes, scenic trails, and places to avoid are throughout the city.