Doctor of Nursing Practice in Population Health Leadership (DNP)
Program Features
Degree Awarded: Doctor of Nursing Practice in Population Health Leadership
This population health-focused program prepares nurses as leaders in addressing the complexity of 21st-century health care and health care outcomes. Through the lens of Xavier's Jesuit tradition, students achieve the highest level of academic preparation that incorporates scientific, philosophical, ethical and historical perspectives of nursing practice along with the complexities of present and future global and holistic health care. The DNP program has been offered 100% online since Fall 2017.
Admission
Candidates must have obtained an MSN from a CCNE or ACEN (formerly NLNAC) accredited school, or a Master's in a field other than nursing. Candidates with a Master's in a field other than nursing are required to have a BSN from a CCNE, ACEN or regionally accredited institution. Candidates are required to have completed a basic statistics course.
One year of professional nursing work experience is required.
International students must be licensed registered nurses in the United States and must meet all additional requirements for admission to the university.
Application Requirements and How to Apply:
Verification of current RN licensure (School of Nursing will obtain)
Official transcripts from all previous coursework including diploma program
A 1-3 page, single spaced, personal statement describing the reasons for seeking doctoral study, short and long term professional goals, narrative of professional experience & discussion of a possible DNP project
Published work or paper from previous coursework
Resume or Curriculum Vitae
3 professional references from faculty or other health professionals with advanced preparation who can evaluate your effectiveness in Graduate Nursing Program (a standard form is incorporated in the application)
Admission is available for the fall semester of each academic year. Applicants will be reviewed and notified of their status by June 30.
Curriculum
Fall
NURS 900 - DNP Foundations............ 3cr.
NURS 904 - Applications of Advanced Research............ 3cr.
Spring
NURS 902 - Advanced Evidence Based Practice............ 3cr.
NURS 903 - Nursing Leadership in Complex Population-based Healthcare Systems............ 4cr.
Summer
NURS 906 - Informatics for Advanced Nursing Practice in Complex Health Systems............ 3cr.
NURS 864 - Epidemiologic Methods............ 3cr.
Fall
NURS 905 - Healthcare Finance and Economics for Nurse Leaders............ 4cr.
NURS 908 - Health Care Policy............ 3cr.
Spring
NURS 910 - Scholarship of Advanced Application and Innovation............ 3cr.
NURS 907 - Evaluation and Analytics of Outcomes in Health Care............ 4cr.
Summer
NURS 911 - Advanced Practice Application............ 3cr.
Fall
NURS 915 - Immersion and DNP Project I............ 3cr.
Spring
NURS 917 - Immersion and DNP Project II............ 3cr.
Sample Courses
NURS 900 DNP Foundations - This course is foundational to the DNP curriculum and facilitates the dynamic interplay occurring throughout the curriculum between faculty and students as they progress on their journey of discovery. The goal of this course is to build a comprehensive perspective for students regarding the DNP role and its function within the complexities of present and future healthcare and the wider global community. The scientific and philosophical underpinnings of the discipline are examined along with traditional and contemporary conceptual models. Students explore components ethical and artistic nursing practice while considering an Ignatian and holistic worldview.
NURS 903 Nursing Leadership in Complex Population-Based Healthcare Systems - This course is designed to enhance leadership skills to strengthen practice and health care delivery to individuals and populations. Care delivery models in complex healthcare systems are explored from a framework of contemporary nursing science that is consistent with ethical, holistic nursing and healthcare goals to eliminate health disparities and lead changes that promote safety and quality outcomes. The course encompasses in-depth analysis of select concepts or topics using an analytic framework, including advanced communication and collaboration skills, innovation and quality.
NURS 906 Informatics for Advanced Nursing Practice in Complex Health Systems - This course builds upon knowledge of healthcare technologies and the management of individual and aggregate level data. Leadership, knowledge and technical skills are applied within the interprofessional healthcare environment to select, use and evaluate population-based healthcare information systems. Programs that evaluate and monitor outcomes of care, quality improvement, consumer use of healthcare information systems, and patient care technology are analyzed. Legal, ethical, global, holistic and interprofessional considerations are emphasized.
NURS 908 Health Care Policy - This course is designed to provide a framework with which to examine health policy issues and better comprehend the policy-making process at all levels, including institutional, local, state, regional, federal and international levels. Health policy issues related to ethics, social determinants as well as healthcare delivery regulation and financing are addressed. The leadership role as an advocate influencing health policy formation is explored. Emphasized are skills for analyzing policy processes and engaging in politically competent actions for the transformation of a holistic and ethical healthcare system which meets the needs of the public and the nursing profession.
Outcomes
$110,930 — average annual wage for advanced practice registered nurses (Bureau of Labor Statistics).
Top Jobs: Registered Nurse, Radiologic Technologist, Medical Assistant, Client Services Analyst, Clinical Research Coordinator, Human Resources Director, Patient Representative
Top Companies: Cincinnati Children's Hospital Medical Center, The Christ Hospital, Mercy Health, Good Samaritan Hospital, St. Elizabeth Healthcare, TriHealth, Anthem
Tuition and Fees
All for one
Xavier is ranked #1 for its excellent academic reputation among top competitors in the region. Students get the most out of their education, from rigorous classroom studies to experiential learning in the real world.
Keeping People Healthy
Students in the doctoral program are steeped in the emerging health care concept of Population Health, a wellness-based approach that reimburses providers and hospitals for keeping people - and populations - healthy in order to improve the country's health outcomes at a lower overall cost.
---
Immersion Experience
Students participate in intense immersion experiences in a variety of environments where they can be innovative and involved in influencing health care outcomes for individuals and populations.
---
Health United Building
The Health United Building embraces the health and well-being of all students on campus and is a significant advance for the College of Nursing, whose academic departments are largely based within the $54 million structure.
---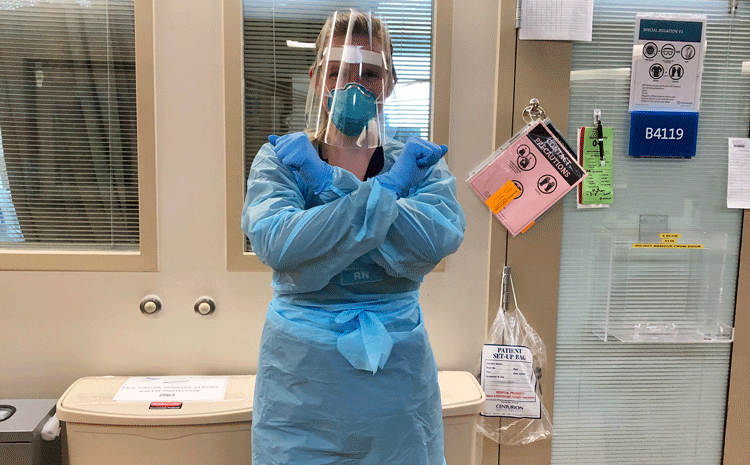 They're in hospitals, clinics and offices in greater Cincinnati and places like Indianapolis, Chicago and Boston. They're nurses and doctors, researchers, administrators and part-timers, responding as needed to the COVID-19 pandemic. They're critical members of the Xavier family who are putting their lives on the line, testing and treating and caring for patients, losing some but healing most. Here are some of their stories.
Doctor of Nursing Practice in Population Health Leadership (DNP) Program at Xavier University
Xavier DNP graduates will be well-positioned for translating the science of population health nursing as nurse leaders in an ever-changing global health care environment. The 40-43 variable credit hour program is a 100 percent online educational offering with a campus-based orientation prior to the beginning of the first fall semester. Students move through the eight-semester program taking three to seven credits per semester. Up to 500 hours of clinical immersion from a master's program and/or advanced certification may be accepted toward the 1,000 immersion hours required for DNP.
Xavier University's College of Nursing prepares undergraduate and graduate students as professional nurses to meet the needs of diverse populations in an ever-changing, highly technical health-care environment. Graduates have the skills to practice nursing today and to be nurse leaders tomorrow in holistic health-care delivery with an educational foundation grounded in Jesuit values. Our graduates are well-respected in the health-care community as knowledgeable, professional, and ethical and prepared to excel in meeting challenges in health-care delivery. Xavier's Nursing programs are accredited by the Commission on Collegiate Nursing Education and endorsed by the American Holistic Nurses Credentialing Corporation.
Xavier University is a private university located in Cincinnati, Ohio, providing a liberal arts education in the Jesuit Catholic tradition. Founded in 1831, the University is the sixth-oldest Catholic university in the nation. It has been ranked among the top 10 master's-level universities in the Midwest by U.S. News & World Report for the past two decades. The Princeton Review names it one of the "Best 385 Colleges in America."
Get More Information