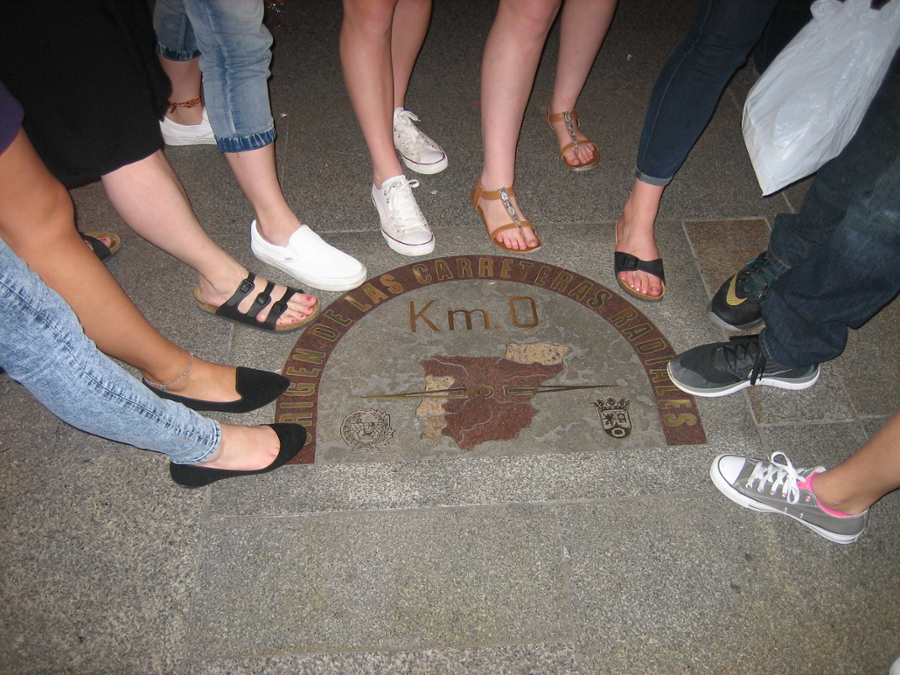 Travel Destinations & Dates
Students will book flights from their home airports and Madrid. Xavier faculty members will book flights on the US departure dates. These itineraries will be announced as soon as they are available, and students will be welcome to travel on the same flights or pursue independent itineraries from their home cities.

In all cases, student travel information will be collected and shared so that a faculty member or other program coordinator will meet the students on arrival in Spain.
Travel Insurance

You will receive e-mailed information from Cultural Insurance Services International, which details the travel insurance coverage that is included in your program fees. Travel insurance provides added services in case of emergency, such as direct payment to foreign medical providers and medical evacuation home to the US for serious injury or illness. Please print the insurance card attachment and carry it with you in Spain.

Independent Travel
In past Xavier in Spain programs, students have arranged independent excursions to a variety of locations in Spain and Europe. Nonetheless, former students have reported that independent travel during the program feels extremely rushed. In retrospect, many students would have preferred to book a later return date to the US in order to provide more time for independent travel after the program's end.
Program coordinators are available to advise students on planning safe and efficient travel arrangements.
Communication

All program lodgings offer wi-fi internet access, and a variety of restaurants, cafés, and other businesses provide network access as well. Students will be able to connect their computers and other devices in most places, although speed and quality vary widely.

Most US mobile telephone companies offer international coverage, with varying rates and features. Contact your provider to be sure that your device will work in Spain and to determine the cost of both calls and data.


Clothing
Students should be aware that northern Spain is cooler than conventional images of the country. Average highs in Comillas are around 70 F (even a bit lower in May), and overnight lows can drop into the low-50s. There likely will be some rainy days with highs in the 60s. You should take a rain jacket and/or umbrella. Good walking shoes are essential, because sidewalks are uneven and cobblestone streets are common in most of the historic sites we will visit.
Madrid will be much hotter, but with only a few days scheduled there, you don't need another wardrobe.
You'll need no formal clothes in either session; a couple of business casual outfits will get you through any nicer events we will attend. For every day, you should be aware that college-age Spaniards dress slightly better than US students. Jeans, polo shirts, and graphic tee shirts are common. Shorts, sweats, and flip flops aren't, unless you're obviously on vacation or going to the beach.
Luggage

It's hard to pack light for a weeks-long journey, but keep in mind that you'll have to carry your bags through airports and train stations. We'll have to walk as far as five blocks with luggage. Don't pack anything that you can't move yourself.

Medication

If you use prescription medication on a regular basis, be sure to take a supply to last your entire time in Spain. Common drugs and excellent medical care are available in Spain, but it's easier to take care of medication before you leave the US.

Personal care items

Virtually all toiletries and other personal care products are available in Spain at reasonable prices. You don't need to pack a large supply, unless you absolutely need to have a specific brand.

Currency & spending money

The easiest way to obtain Euros is with an ATM card from your own bank. I use US Bank, and prior to international travel I inform them that I will be making ATM withdrawals from the country I'm visiting. A Spanish ATM will dispense Euros, deducting the equivalent in Dollars from your account. Contact your own bank for information on fees charged for overseas transactions. Also, credit cards are widely accepted. Do not take travelers cheques, as exchanging them into local currency is very inconvenient and costly.

Safety

Spain is considered a safe country, as there is little random violent crime. However, in the larger cities you must be mindful of your personal belongings. There are many crimes of opportunity perpetrated against visitors who are unfamiliar with the surroundings. Pick pockets or bag snatchers are known to work in public areas. You can protect yourself by carrying only what you need and being aware of people around you in crowds. Also, it is not uncommon for young travelers from the US to encounter problems after over consumption of alcohol. The legal drinking age in Spain is 18, but you must keep in mind your own experience and safety when choosing to drink alcoholic beverages.