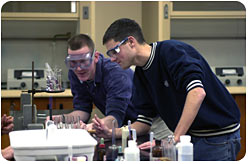 Xavier University's chemistry majors, upon graduation, are equipped with a knowledge of basic chemical principles and experience in careful observation, controlled experimentation, and thoughtful analysis of scientific data.
A high percentage of students who have received the Bachelor of Science degree in chemistry or applied chemistry from Xavier have undertaken graduate studies in chemistry or chemical engineering. With the addition of general biology, the chemistry major also becomes qualified for consideration for admission to dental, medical or vet school. Those wishing to pursue these professional programs are counseled by the Health Science Committee and chemistry faculty.
Other graduates with degrees in chemistry or chemical science have found excellent jobs in industry, locally and elsewhere. Chemical training has served as the basis for a wide range of interesting careers of a related nature such as: environmental science, forensic science, chemical business, insurance, chemical sales and service, library science, college teaching, museum work, patent law, government laboratories, research and consulting organizations, industrial chemistry, science writing, industrial hygiene, secondary school teaching, information science and toxicology.
The Xavier University Career Services Center assists students in their search for employment by conducting an annual workshop series on interviewing and resume writing techniques, and by maintaining a current educational, vocational, and employer information resource center. Many students begin working with the office of career and leadership development during their freshman year to begin developing a personal career plan.