Non-Catholic Faith Traditions
Non-Catholic Faith Traditions at Xavier University
The student body at Xavier is representative of a diverse range of faith traditions and backgrounds, including most Christian denominations as well as those from Buddhist, Jewish, Muslim, Hindu and Shinto faiths.
Take a look at some of the offices and programs that offer students opportunities to worship and deepen their spirituality.
Dorothy Day Center for Faith and Justice
The Dorothy Day Center for Faith and Justice (CFJ) offers retreats, small faith communities and worship opportunities for students of all faith traditions. Programs include ecumenical ministry services, multi-faith led prayer services, bilingual mass services, community service days and alternative break opportunities.
Center for Faith and Justice
Spiritual Gathering Space for Students
The Spiritual Gathering Space is an interfaith prayer chapel located on the first floor of Husman Hall, equipped with an ablution fountain and prayer rugs (check the cabinet). More than 20 faith traditions are represented at Xavier, including most Christian denominations as well as those from Buddhist, Jewish, Muslim, Hindu and Shinto faiths.
Faith Sharing Companion Groups
Companion Groups are weekly faith-sharing groups that provide students with the opportunities to reflect on their lives, grow in faith and build community. Groups are held once a week, and you will be paired with a group depending on your faith tradition, experience and preferences.
Common Ground Ecumenical Ministry
Common Ground is an ecuminical ministry on campus where students from multiple Christian backgrounds can come together to worship and pray. The group deliberately engages the differences in traditions of theology and worship to draw nearer to God collectively. Held at 8:00 p.m. Sundays in the GSC Clock Tower Lounge.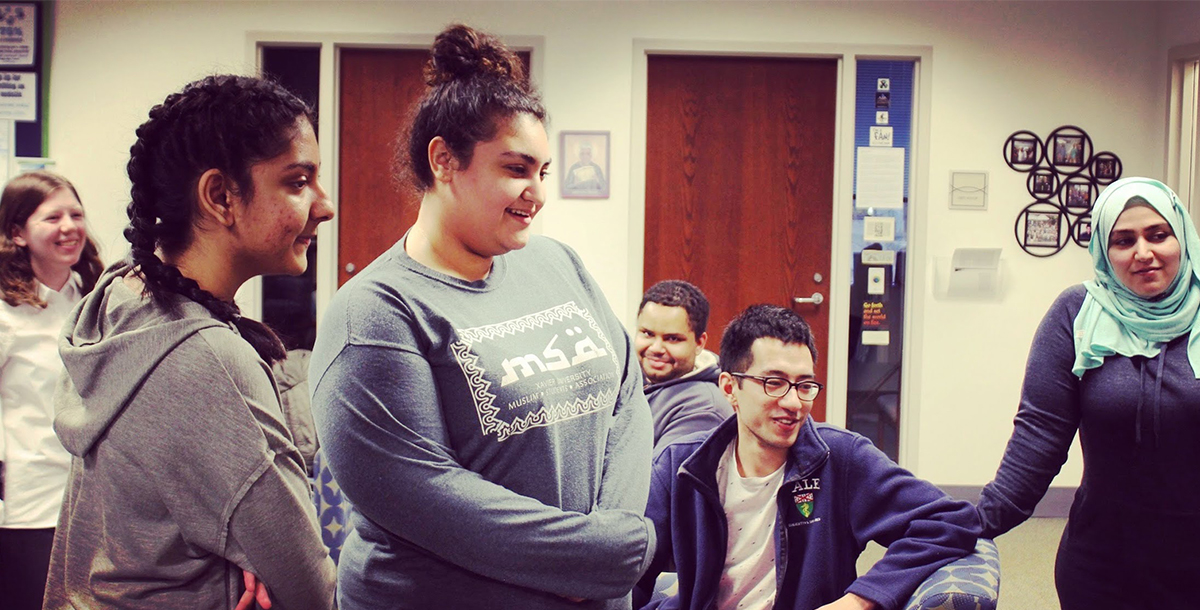 Weekly Islamic Friday Prayer
Men and women are encouraged to come to the Interfaith Chapel at 2:00 p.m. every Friday for Jumma, a diverse Muslim prayer group. 
The Interfaith chapel has a place to make wudu. Khutbas are offered by professors, community members, alumni and student leaders, helping us to connect our faith and our life.
Dine Better Together Interfaith Dinners
Dine Better Together is a series of interfaith dinners between different groups on campus that occur once or twice a semester. It's a chance to have constructive, interesting and inspiring conversations across religious and cultural identities. The food offered is vegetarian and halal friendly.
Spiritual Companionship
Spiritual Companionship is an opportunity for students to intentionally reflect upon and listen to her/his life experiences in the presence of a trusted companion. Students are encouraged to meet with a companion once every two to three weeks for 45-50 minutes. The opportunity to openly and honestly speak about one's faith journey and life experiences in the presence of another often allows for the emergence of new insight and clarity.