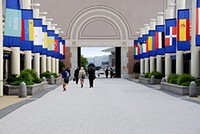 The Center for International Business builds international relationships with multi-national corporations and educational institutions that will allow for unique opportunities for WCB students and faculty.
Mission
The mission of Xavier University's Center for International Business is to lead the globalization initiative at the Williams College of Business in the development of industry leading academic programs that result in preparing future business leaders to competently serve organizations and society in the global economy as citizens of the world.
Vision
The vision of Xavier's Center for International Business is to be recognized as a leading academic institution, within the next five years, by offering innovative programs to enhance the competence and perspective of our students in order to prepare them to meet the complex challenges of an increasingly global markets and society.
Objectives
We provide expertise and resources to facilitate the offering of innovative and specialized international study programs and internship opportunities that would enhance our students' academic and professional development.
The programs are designed to equip the students with a global mindset, sensitivity, and real-world problem-solving capabilities that would help them become valuable assets to the organizations that they would serve upon graduation.
As such, the Center will:
Develop international short-term study trips and study abroad programs at both the undergraduate and MBA levels to help students gain exposure to various cultural/political/economic settings in different parts of the world
Identify and conclude strategic partnerships with overseas universities that will allow for unique opportunities for our students and faculty
Support WCB faculty members in the creation and dissemination of research and teaching materials on up-to-date international related topics
Provide assistance for international student recruitment, placement, program development and program assessment that helps to create a more culturally diversified learning environment for our own students
Provide networking opportunities and assistance to students in exploring overseas internship opportunities and job placements
Strengthen and expand the Executive Advisory Board of the Center by appointing business leaders with considerable international experience and those who occupy key positions in MNCs and leading organizations in the nation
Offer workshops and training programs that would bring together all our constituencies such as students, faculty, alumni and the business community