Information and Eligibility Requirements
Undergraduate students at Xavier University are invited to consider the Fredin Memorial Scholarship Program, which provides a stipend toward a full academicyear or one semester of studies at either the Sorbonne in Paris, France, or the University of Grenoble - French Language and Culture in Grenoble, France, through the American Institute for Foreign Study (AIFS). Recipients of the Fredin Scholarships study the French language and take other courses in such disciplines as history, political science, geography, demography, philosophy, literature, music and art. In Paris, courses may also be taken at other universities at the same time.Recipients have a choice of spending the full academic year or the fall semester or the spring semester in France.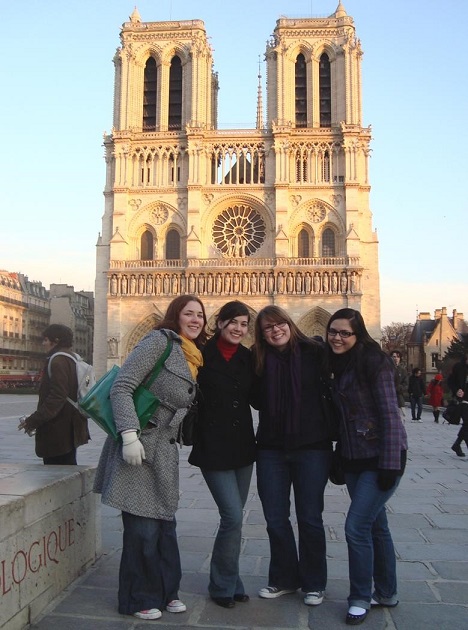 Full-time undergraduates from any college and with any major are eligible to apply, provided that they have completed at least one semester of full time coursework at Xavier. Students must have at least junior standing (55 credit hours) by the time they arrive in France. Furthermore, recipients are required to attend Xavier as a full time student for at least one semester upon completion of the program. Fredin Scholarships are awarded on a competitive basis. Applicants should be serious students who want to learn French and who have at least a 3.0 cumulative average. Prior knowledge of French, while highly desirable, is not required for application. However, you may be required to complete a French 101 course or its equivalent before departure.
The programs in which students enroll in France are not Xavier programs. Students will enroll in these programs through AIFS (www.aifsabroad.com). Students can earn anywhere from 14 to 36 semester hours of transfer credit at Xavier depending on the program they select. Students have housing choices of university residence halls, apartments, or French homes; in all of these cases, they will be sharing their living space with others, often with native French speakers. They take their meals at the residence hall, at selected restaurants, or with the host family depending on their housing choice. Each program has a resident director who facilitates registration and housing , and who advises and orients the participants. The French university system provides ample vacation time for travel.
The basic costs include tuition, housing, most meals, cultural activities and round-trip transportation. The scholarship stipend will be paid directly from the scholarship fund to AIFS when the student submits a copy of his or her program statement to the committee. The Fredin scholar will be responsible for paying the rest of the basic costs and all other expenses. Personal travel during the course of the program will be an additional expense to the student.
Application
Applications and recommendations must be received by Friday, November 10, 2017.
As part of the application, applicants must request two letters of recommendation written by Xavier teachers or administrators. The application form can be accessed here and the reference request form can be downloaded here.
---
Fredin Committee
(2018-2019)
Dr. Rachel Chrastil, Associate Dean
College of Arts and Sciences
Dr. Kathleen Hart, Professor
Department of Psychology
Dr. Bertin Ondja'a, Visiting Professor
Department of Classics and Modern Languages
Ms. Kim Diehl, Director Center for International Education