Center for Veterans Affairs
Welcome to the Xavier University Center for Veterans Affairs.
At Xavier, you join a student body consisting of veterans, their dependents and traditional students attending both undergraduate and graduate classes. Veterans and military students at Xavier find many advantages provided by the Veterans Center, including the Yellow Ribbon Program and other benefits that help further your education. We value the unique experiences you've had through your military service, and we seek to integrate veterans into the Xavier community by helping with your transition.
If you are looking to attend Xavier and need help understanding benefits or what Xavier has to offer, please follow the Future Students page. Should you decide that you want to join our community, you can apply or if you have more questions you can contact our staff.
If you are a current student and looking to become more active with the center or places around campus, check out the Current Students page.
Be sure to look at our Frequently Asked Questions for any basic inquiries and feel free to contact the office if you have any additional or follow-up questions.
Our Resources and About pages are also great sources of information regarding what our center does and what other places on campus offer that can help with specified interests such as counseling, the Learning Assistance Center and Campus Ministry.
Arising out of a strong Jesuit tradition and a proud supporter of the military, the Center for Veterans Affairs is here to help you with all your current and future endeavors.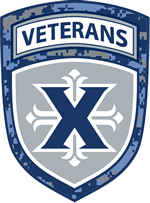 Contact Us
Call: (513) 745-3685
Location: Center for Veteran's Affairs
Hours:
Monday-Friday
9:00 a.m.-5:00 p.m.
Fax: (513) 745-3055