Center for Veterans Affairs
Xavier University is proud to announce that it has been designated a 2015 Military Friendly® School.
At Xavier, we value the unique experiences gained through military service. Here at the Center for Veterans Affairs we seek to integrate veterans into the Xavier community by helping with their transition. Our Center strives to provide all of the resources necessary for veterans and their dependents to pursue their educational and personal goals.
The Xavier experience allows veterans and military students to receive a high-quality education, continue their service, and receive any assistance they may need. Our staff helps veterans through every step of the education process all the way to graduation, helps with employment, and stays in touch after they become Xavier alumni.
For more information check out our future students page. If you have any questions, you can contact our staff.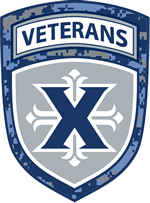 Contact Us
Call: (513) 745-3685
Location: 1415 Dana Avenue
Hours:
Monday-Friday
9:00 a.m.-5:00 p.m.
Fax: (513) 745-3055
Xavier also has a partnership with the Cincinnati VA Medical Center and the VITAL program.
G.I. Jobs magazine ranked Xavier a Military Friendly School for 2013 for the fourth year in a row.