Xavier University has many opportunities for financial assistance for veteran students and dependents.
Yellow Ribbon University
Xavier University is a Yellow Ribbon School. If you are eligible for the Post 9/11 GI Bill, your tuition is covered at Xavier at both the undergraduate and graduate levels. GI Bill benefits include a monthly housing stipend, and the GI Bill also allows eligible veterans to transfer part or all of their benefits to a dependent family member.
If you qualify at 100% eligibility that means everything not covered by the GI Bill is paid for by Xavier and tuition is covered. To qualify for all of your benefit you must have an honorable discharge after 36 months of active service.
Getting Started
In order to start your journey as a Musketeer, you must follow these three steps:
To complete the process as quickly as possible all steps should be started simultaneously.
If you have any questions or concerns, feel free to Contact Us.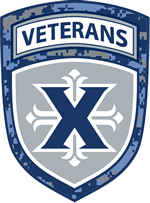 Contact Us
Email
Call: (513) 745-3685
Location: Conaton Learning Commons, Room 529.
Hours:
Monday-Friday
9:00 a.m.-5:00 p.m.
Fax: (513) 745-3055