Student Veterans of Xavier
The Student Veterans of Xavier are dedicated to helping Veterans and dependents transition from the military lifestyle into the college lifestyle. The club is open to veterans, those currently serving in the armed forces, veteran dependents, and any student who wants to support veterans. SVX aims to create a fellowship of like-minded individuals, to promote a network of students and successful alumni, and to provide professional and leadership development for all of its members.
"Our mission is to assist our fellow veterans and dependents during transition, support them in their academics, and provide a veterans organization continuing our tradition of service to each other and our community."
Upcoming Events
Nov. 8th - Disabled American Veterans 5K
Nov. 11th - Open House & Free Lunch 12pm- 4pm Everyone is welcome!
Nov. 12th - SVX Meeting
Blog
Connect with SVX
To join SVX or for any further information please contact Erin Redden.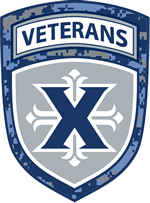 Contact Us
Email
Call: (513) 745-3685
Location: 1415 Dana Avenue
Hours:
Monday-Friday
9:00 a.m.-5:00 p.m.
Fax: (513) 745-3055