About the Veterans Affairs Center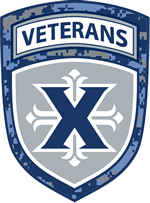 The Veteran Affairs Center provides veterans of Xavier University a safe, studious, and recreational setting. The Center has multiple resources available to both veterans and dependents such as: financial aid, career planning, and both personal and professional assistance such as psychologists, lawyers, and mentorship programs. Xavier's Veteran Affairs Center strives to create an open, friendly space in which veterans feel welcomed and provide guidance necessary to ensure a smooth transition back to school.
One main focus of Xavier's Veterans Center is to make veterans feel and experience the traditional student life. Xavier sees Veterans as a vital leader in the classroom. Not only does Xavier provide top-notch education, but we value the perspective a Veteran can bring into learning.
Finally, the Center of Veteran Affairs is focused on maintaining an emphasis in Veterans continuing their service through both Xavier University and the community. This is done through a variety of partnerships with organizations in which veterans have the opportunity to continue serving, while making career connections, in their transition back to civilian life.
The Veteran Affairs Center of Xavier University is focused on men and women for others; we are a leader in displaying that service, and we are an important part of our University's mission.