Physical Plant
Work Orders
Requesting Service (7:30 a.m. to 5:00 p.m.)
Phone: 745-3151
Fax: 745-1926
E-mail: plant@xavier.edu
Please visit our Work Requests page for more information and to submit a work request online.
Latest News
Quick Facts
Waste Diversion Rate - 30%
School Cleaning Products - Green Certified - 80%
Xavier received the Grand Award from the Professional Grounds Management Society for recognition of professional accomplishment and grounds management.
Xavier's campus covers 189 acres of land.
Xavier has 54 buildings on campus.
Since 1980, Xavier's campus has grown from 794,840 Gross Square Feet to 2,249,065 Gross Square Feet.
According to Sightlines, with similar resources Xavier is out performing peers in campus appearance evaluations.
Contact Us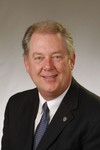 Robert M. Sheeran
Vice President for Facilities
Xavier Field Office
1601 Dana Avenue
Cincinnati, OH 45207
Mail Location: 7711
Phone: 513-745-3151

Fax

: 513-745-3669
For more information about Robert Sheeran, please refer to the Staff Directory.