Landscaping and Grounds
Campus Grounds
Grounds maintenance is the recipient of the PGMS Honor (1999) and Grand (2006) awards for excellence in urban university landscape maintenance.
Following is a list of services provided by the Campus Grounds Services Department:
Plants and maintains all landscape beds, flowers (perennials and annuals), shrubs, and trees.
Cuts grass, mulches, removes leaves, empties outdoor recycling and trash containers, picks up litter and trash.
Operates and maintains irrigation systems, maintains all athletic fields and provides critter control.
Performs snow and ice removal from sidewalks, parking lots, and driveways during the winter.
Has participated in the development of Project Search students since 2005.
Walt Bonvell's Keynote Address - Project Search Graduation


Dave Bryant and Rob Cain of the Grounds crew rebuilding a retaining wall behind
the rental house located at 3836 Ledgewood.



Jerry Wolf planting Coleus around Hinkle Hall.
Jerry Wolf and Rex Brown working on irrigation in front of Schott Hall.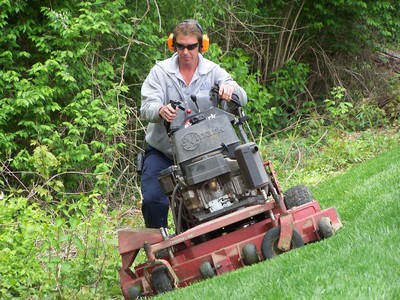 Rob Cain cutting grass.