SPIRIT CELEBRATION
Mass of the Holy Spirit
&
Community Social

Wednesday, September 9, 2015
11:00 a.m. - 1:00 p.m.
Xavier Yard, Husman Hall Stage
University President Michael J. Graham, S.J., invites students, faculty, staff, and friends to celebrate the beginning of the academic year. To do so, the President, with support from the Faculty Committee and the University Staff Committee, has announced that classes will be suspended and offices will be closed from 11:00 a.m. until 1:00 p.m.

This is an opportunity for the Xavier community, composed of people of a variety of faith traditions, to gather together and be united in common prayer asking for God's blessing on the new year.
Special Features of the 2015 Mass of the Holy Spirit
The Welcome will be offered by a member of Faculty Committee
The college deans, faculty, and students will be carrying Jesuit identity banners
Jesuit concelebrants will enter paired with an ordained religious leader on campus (King-Kaiser, Ingber, Luckey, Melcher, Suno-Koro)
A multi-club choir will be singing
Students, faculty, and staff from a variety of academic areas and of various faith traditions will be offering readings
History --- In keeping with a long tradition dating from the founding of the great European universities in the 16th century, Catholic high schools and universities celebrate the Mass of the Holy Spirit to mark the beginning of the academic year. In fact, within Jesuit circles the practice dates to the first Jesuit school in Messina, Sicily in 1548. It has been celebrated at Xavier since 1840 - when Fr. John Elet, S.J., the first president, presided – relatively recently as "Spirit Celebration" along with a festive communal gathering.


CLICK HERE to see and hear John Larocca, S.J. consider the relationship between the Mass of the Holy Spirit and the Jesuit mission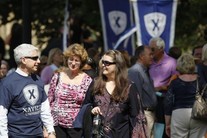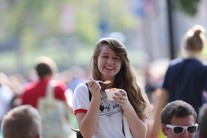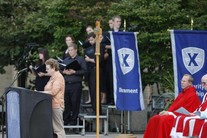 Questions should be directed to Rachelle Kramer Kramerr4@xavier.edu