A Conversation Hour
for Faculty, Staff, and Administrators
On the current topic in Conversations on Jesuit Higher Education magazine
~ Sponsored by the Conway Institute for Jesuit Education ~
Jesuit Higher Education in a Global Context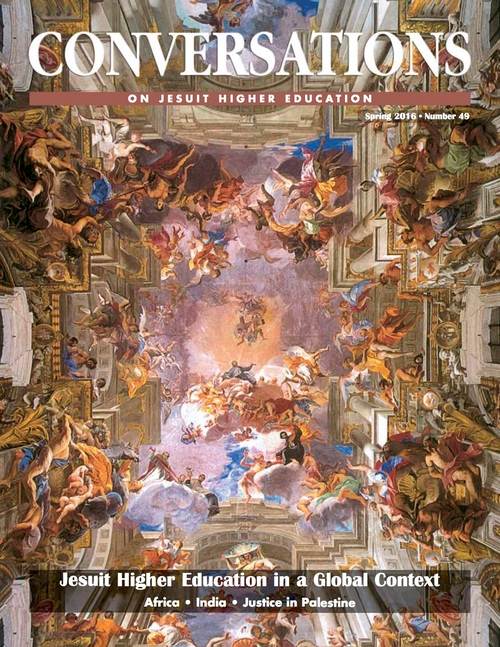 Tuesday, March 15
12:00 pm - 1:15 pm
Fenwick Conference Room
Presenters:
Dr. Elaine Crable (Management Information Systems) Director of International Business
Dr. Victoria Zascavage (Education) Task force member of Xavier's Seeking Integration and Wisdom
Dr. Thilini Ariyachandra (Management Info Systems) Assoc Dir of International Business

---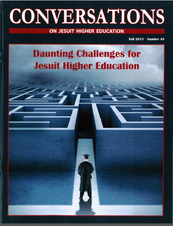 Challenges for Jesuit Education
Tuesday, Oct 27
12:00 pm - 1:15 pm
Fenwick Conference Room

Recommended readings:
Dr. James Buchanan, Director of the Brueggeman Center for Dialogue - p. 7
Dr. Kathleen M. Hidy, Faculty Fellow at the Cintas Institute for Business Ethics - p. 41
---
Mission Integration
Thursday, Sept 18
12:00 pm - 1:00 pm
Fenwick Conference Room

Presented by the staff of the Center for Mission and Identity
Recommended readings:
An inspiration and an agenda for Jesuit universities and colleges - page 5
by Patrick Howell SJ
Board Governance in the Ignatian Tradition: Trustee Reflections - pages 15-16
by Debra Mooney, Ph.D.

Issue #46
---
Suppression, Survival, Reinvention
Tuesday, Feb 25
12:00 pm - 1:15 pm
Fenwick Conference Room
Panelists: Drs. Chinta, Helmer, Pramuk, Prosak-Beres, Richtermeyer, Strunk, Suno-Koro, Otero

Issue #45


---
Justice in Higher Education
October 15, 2013
12:00 pm - 1:15 pm
Conaton Board Room

Featuring:
Ann Dougherty
Angela Gray
Dr. Margo Heydt
Dr. Maureen Mullinax
Tamika Odum
Dr. Debra VanKuiken

Read articles in Issue 44 here.
---
Eloquentia Perfecta in a Digital Age
March 5, 2013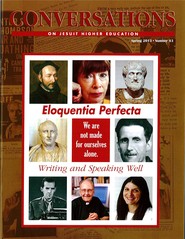 12:00 pm - 1:15 pm
In the Conaton Board Room
Featuring:
Dr. David Burns, Marketing
Dr. Rebecca Muich, Classics
Dr. Niamh O'Leary, English
Dr. Lisa Ottum, English

Recommended Reading:
"Why Students Don't Write: Educating in the Era of Credentialing"
by Dr. Kristine Johnson
---
Work/Life Balance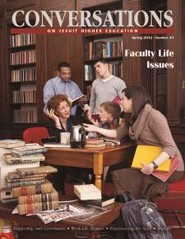 March 13, 2012
12:00 pm - 1:15 pm
In the Conaton Board Room
Featuring:
Joliene Garlich, MBA International Admission
and Student Services Specialist
Dr. Gail Hurst, Chair, Criminal Justice
Leah Busam Klenowski, Director for Student Involvement
Rob Munson, Director for Financial Planning and Budgeting
Cheryl Nuñez, Assistant to the President for Diversity and Equity
Dr. Karl Stukenberg, Chair, Psychology

Recommended Readings:
"The Importance of Good Coffee"
by Michael J. Graham, S.J.

"What to Do About It: Cura Personalis and the Challenge of Work-Life Balance"
by Diane Dreher

"Obstacles to Excellence: Work/Life Balance"
by Theresa W. Tobin
To see a list of top work/life balance tips from the March 13, 2012 Conversations Hour, click here.
Re-creating Jesuit Higher Education: Connecting with Students
---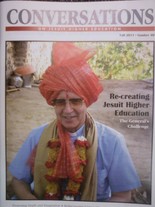 October 4, 2011,
12:00 pm - 1:15 pm
In the Conaton Board Room
Featuring:
Dr. David Burns, Director of Faculty Programs in Mission and Identity/Professor of Marketing
Dr. Kathleen Smythe, Professor, History Department
Dr. Carol Scheerer, Professor, Occupational Therapy
Sr. Rose Ann Fleming, Special Assistant to the President
Optional Readings:
"Challenges to Jesuit Higher Education"
by Adolfo Nicolas, SJ
"Developing the Athlete for Academic Excellence"
by Rose Ann Fleming
Post-session Recommended Read:
"Asking Hard Questions about the Impact of International Service Learning"
by Dr. Robbin D. Crabtree, Fairfield University
---
The Role of Mission in the Core Curriculum in Jesuit Education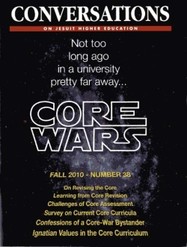 February 8, 2011
12:00 pm - 1:30 pm
In the Conaton Boardroom



Join us for a conversation featuring:
David Burns, Director of Faculty Programs in Mission and Identity/Professor of Marketing
Paul Colella, Professor, Philosophy; Philosophy, Politics and The Public Honors Program
Marie Giblin, Associate Professor, Theology
Peter Huff, Besl Chair in Ethics, Religion & Society, Theology
Julia O'Hara, Associate Professor, History