Conversations Hour for Faculty, Staff, and Administrators
~ Sponsored by the Conway Institute for Jesuit Education ~
---
Suppression, Survival, Reinvention
Tuesday Feb 25
Noon-1:15
Fenwick Conference Room
Panelists: Drs. Chinta, Helmer, Pramuk, Prosak-Beres, Richtermeyer, Strunk, Suno-Koro, Otero

Issue #45

Calendar year 2014 marks 200 years since the Restoration of the Society of Jesus following 41 years of Suppression. Pressured by the royal courts of Portugal, France and Spain, Pope Clement XIV suppressed the Society, causing Jesuits throughout the world to renounce their vows and go into exile. This issue of Conversations offers articles on the details of the historical causes and effects of the Suppression but also features papers on responses to crises and turning points since the Restoration.
This issue will be used in association with the annual Heartland-Delta Faculty Conference being held on Xavier's campus on February 14-16. Three authors will be speaking at the gathering: Tom Worchester SJ, p. 5; fellow trustee Daniel Hendrickson SJ, p. 30; Laurie Ann Britt-Smith, Ph.D., p. 35.

Other highlights
Excerpts and perceptions from the October meeting of the Superior General of the Society, Fr. Adolfo Nicolas, with university board chairs and presidents begins on page 32. See the photograph of the gathering with Barbara Howard, Bob Kohlhepp and Fr. Graham on the back cover.

Xavier's Ernest Fontana, Ph.D., who has retired as Professor Emeritus after forty-seven years on the English faculty, writes on the portrayal of a 19th century Jesuit in an Italian historical novel, The Leopard, on page 37.

Brief narratives of the founding of each of the 28 Jesuit higher educational institutions are outlined; Xavier University's account is on page 41.

---
Justice in Higher Education
October 15, 2013
12:00 - 1:15 pm
Conaton Board Room

Featuring:
Ann Dougherty
Angela Gray
Dr. Margo Heydt
Dr. Maureen Mullinax
Tamika Odum
Dr. Debra VanKuiken

Read articles in Issue 44 here.
---
Eloquentia Perfecta in a Digital Age
March 5, 2013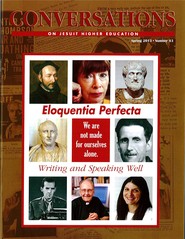 12:00 pm - 1:15 pm
In the Conaton Board Room
Featuring:
Dr. David Burns, Marketing
Dr. Rebecca Muich, Classics
Dr. Niamh O'Leary, English
Dr. Lisa Ottum, English

Recommended Reading:
"Why Students Don't Write: Educating in the Era of Credentialing"
by Dr. Kristine Johnson
---
Work/Life Balance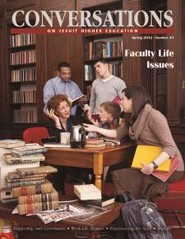 March 13, 2012
12:00 pm - 1:15 pm
In the Conaton Board Room
Featuring:
Joliene Garlich, MBA International Admission
and Student Services Specialist
Dr. Gail Hurst, Chair, Criminal Justice
Leah Busam Klenowski, Director for Student Involvement
Rob Munson, Director for Financial Planning and Budgeting
Cheryl Nuñez, Assistant to the President for Diversity and Equity
Dr. Karl Stukenberg, Chair, Psychology

Recommended Readings:
"The Importance of Good Coffee"
by Michael J. Graham, S.J.

"What to Do About It: Cura Personalis and the Challenge of Work-Life Balance"
by Diane Dreher

"Obstacles to Excellence: Work/Life Balance"
by Theresa W. Tobin
To see a list of top work/life balance tips from the March 13, 2012 Conversations Hour, click here.
Re-creating Jesuit Higher Education: Connecting with Students
---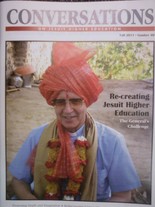 October 4, 2011,
12:00 pm - 1:15 pm
In the Conaton Board Room
Featuring:
Dr. David Burns, Director of Faculty Programs in Mission and Identity/Professor of Marketing
Dr. Kathleen Smythe, Professor, History Department
Dr. Carol Scheerer, Professor, Occupational Therapy
Sr. Rose Ann Fleming, Special Assistant to the President
Optional Readings:
"Challenges to Jesuit Higher Education"
by Adolfo Nicolas, SJ
"Developing the Athlete for Academic Excellence"
by Rose Ann Fleming
Post-session Recommended Read:
"Asking Hard Questions about the Impact of International Service Learning"
by Dr. Robbin D. Crabtree, Fairfield University
---
The Role of Mission in the Core Curriculum in Jesuit Education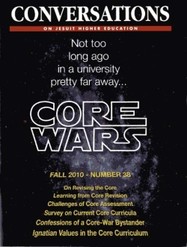 February 8, 2011
12:00 pm - 1:30 pm
In the Conaton Boardroom



Join us for a conversation featuring:
David Burns, Director of Faculty Programs in Mission and Identity/Professor of Marketing
Paul Colella, Professor, Philosophy; Philosophy, Politics and The Public Honors Program
Marie Giblin, Associate Professor, Theology
Peter Huff, Besl Chair in Ethics, Religion & Society, Theology
Julia O'Hara, Associate Professor, History