Research
Description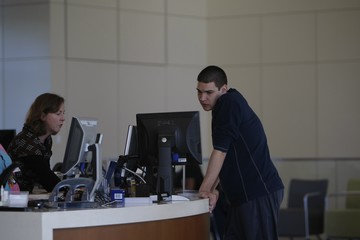 In-person and telephone research help provides assistance at the Connection Center Desk in the Conaton Learning Commons. Research help shifts are staffed primarily by librarians with graduate students covering part of the Friday and all of the Saturday shifts.
Hours
Monday - Thursday: 10am to 7pm
Saturday: 8am to 12pm
Sunday: 2pm to 6pm
Ask US
Faculty, staff, and students can also contact a librarian via email, IM/Chat, and text.
Research Consultations
Consultation services are available by appointment at times convenient for faculty and students. Contact a specific librarian for this service. Consultation services are available for individuals or small groups; over the telephone, in-person or through online chat; and in the library or in a faculty/staff member's office.
Staff
Research help is provided by all of the librarians and is coordinated by Vicki Young at (513) 745-4804 young@xavier.edu.