Sports and Spirituality Quotes
I ask that you live your sport as a gift from God, an opportunity not only to bring your talents to fruition, but also as a responsibility.
-Pope Francis
Never delay gratitude.
- Skip Prosser
You play with your soul as well as your body.
- Kareem Abdul-Jabbar
It's not the size of a man, but the size of his heart that matters.
- Evander Holyfield
She taught me that it's ok to let down your guard and allow your players to get to know you. They don't care how much you know until they know how much you care.
- Pat Summitt
...I'd proven to the world that maturity, experience, dedication and ingenuity can make up for a little senescence. Muscle tightening is not the only thing that happens to our bodies over time. We gain knowledge, focus and understanding, and those things can help us win.
- Dara Torres
Find something that you're really interested in doing in your life. Pursue it, set goals and commit yourself to excellence.
- Chris Evert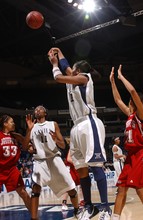 I am a huge believer in giving back and helping out in the community and the world. Think globally, act locally I suppose. I believe that the measure of a person's life is the affect they have on others.
- Steve Nash
Through discernment, we recognize the good and find peace in the decisions we make, progressing ourselves to the future that awaits us.
- Christina Schneider
See the beauty and power of God in everything.
- John McCambridge
Maybe the process it takes to accomplish the goal, maybe that is God, omnipresent.
- Tommy Kaufmann
By approaching all situations in life with the purest of intentions, we truly allow ourselves to seek and find God in all things.
- Taja Wilson
To give anything less than your best is to sacrifice the gift.
- Steve Prefontaine
Take your victories, whatever they may be, cherish them, use them, but don't settle for them.
- Mia Hamm
Every strike brings me closer to the next home run.
- Babe Ruth
We just want to keep improving. Every game, every situation we're in, we want to bring that effort and bring that energy. We're not looking at a number. We just want to keep going.
- David West
It's all about the journey, not the outcome.
- Carl Lewis
The accountability rests with me.
- Skip Prosser
What other people may find in poetry or art museums, I find in the flight of a good drive.
- Arnold Palmer
If I have given my all and still do not win, I haven't lost. Others might remember winning or losing; I remember the journey.
- Apolo Anton Ono
Each of us has a fire in our hearts for something. It's our goal in life to find it and keep it lit.
- Mary Lou Retton
A life isn't significant except for its impact on others lives.
- Jackie Robinson
Know yourself. Never forget where you came from, and reach back to help someone else come forward too.
- Alpha Alexander
We respected and cared about the game and felt the same way about each other.
- Mia Hamm
The best thing about sports is the sense of community and shared emotion it can create.
- Bob Costas
Sports can unite a group of people from different backgrounds, all working together to achieve a common goal. And even if they fall short, sharing that journey is an experience they'll never forget. It can teach some of the most fundamental and important human values: dedication, perseverance, hard work, and teamwork. It also teaches us how to handle our success and cope with our failure. So, perhaps the greatest glory of sport is that it teaches us so much about life itself.
- Ahmad Rashad
Focus, discipline, hard work, goal setting &the thrill of finally achieving your goals. These are all lessons in life.
- Kristi Yamaguchi
Never put an age limit on your dreams.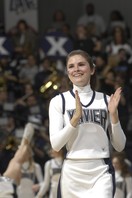 - Dara Torres
Go confidently in the direction of your dreams. Live the life you've imagined.?
- Meryl Davis

Falling in life is inevitable?staying down is optional.
- Carrie Johnson

When anyone tells me I can't do anything, I'm just not listening anymore.
- Florence Griffith-Joyner

I'm trying to do the best I can. I'm not concerned with tomorrow, but with what goes on today.
- Mark Spitz

Each of us has a fire in our hearts for something. It's our goal in life to find it and keep it lit.
- Mary Lou Retton

Never underestimate the power of dreams and the influence of the human spirit..The potential for greatness lives within each of us.
- Wilma Rudolph

You have to believe in yourself when no one else does -- that makes you a winner right there.
- Venus Williams
He who is not courageous enough to take risks will accomplish nothing in life.
- Muhammad Ali

To uncover your tru potential u must1st find your own limits & then u have to have the courage 2 blow past them.
- Picabo Street

Age is no barrier. It's a limitation you put on your mind.
- Jackie Joyner-Kersee

If you think you're done, you always have at least 40 percent more.
- Lauren Crandall
The first thing is to love your sport. Never do it to please someone else. It has to be yours.
- Peggy Fleming
I am building a fire, and every day I train, I add more fuel. At just the right moment, I light the match.
- Mia Hamm

It's all about the journey, not the outcome.
- Carl Lewis

You have to train your mind like you train your body.
- Bruce Jenner

Nothing can substitute for just plain hard work.
- Andre Agassi
You miss 100 percent of the shots you don?t take.
- Wayne Gretzky
I always felt that my greatest asset was not my physical ability, it was my mental ability.
- Bruce Jenner
A trophy carries dust. Memories last forever.
A life isn't significant except for its impact on others' lives.
-Jackie Robinson
- Mary Lou Retton