Orientation Packs
Save money by ordering orientation packs for every audience.
Each orientation pack provides some of our most popular resources on Jesuit education and Ignatian spirituality in an individually packaged, clear re-sealable bag.

Basic Pack $5.50


(a $6 value, save 50¢ per pack)
Perfect for new students, retreatants, and new employees this pack includes our best sellers:
Do You Speak Ignatian?
Understanding Ignatian and Jesuit Spirituality
St. Ignatius Loyola: Founder of the Jesuits
Daily Examen Prayer Card

---
Student Leader Pack
Student Athlete Pack
Graduate Student Pack
$8.75

(a $9.50 value, save 75¢ per pack)
Perfect for orientations for unique student populations.
Do You Speak Ignatian?
Understanding Ignatian and Jesuit Spirituality
St. Ignatius Loyola: Founder of the Jesuits
Daily Examen Prayer Card
Plus a copy of one of "Lighting the Way". Choose from:
- LTW: Incorporating Jesuit Values as a Student Leader
- LTW: Incorporating Jesuit Values as a Student Athlete
- LTW: Incorporating Jesuit Values as a Graduate Student

---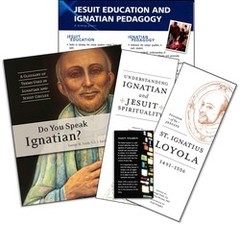 Faculty and Staff Pack $6.00


(a $6.60 value, save 60¢ per pack)
Perfect for faculty and staff orientation:
Do You Speak Ignatian?
Understanding Ignatian and Jesuit Spirituality
St. Ignatius Loyola: Founder of the Jesuits
Daily Examen Prayer Card
Jesuit Education and Ignatian Pedagogy: A Desktop Primer

---
Customers who viewed this item also viewed: