Sustainable Construction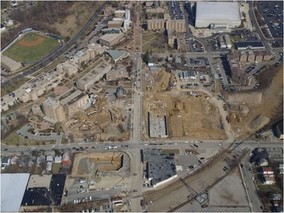 Construction of the Hoff Academic Quad was completed on August 13, 2010 and consists of the Conaton Learning Commons, Smith Hall and the Central Utility Plant. These three buildings, along with Bishop Edward Fenwick Place, were designed to meet or exceed the US Green Building Council's LEED silver standards, but are not certified.
Excavated soil from the construction was used to form the foundation of the N.E.X.U.S. Community Garden near the McGrath Health and Wellness Center and as soil filler for the Lower Millcrest Park in Evanston. Throughout the project, 70% of construction and building demolition was diverted from landfills. Structural steel, concrete, carpet and ceiling tiles are some of the materials that were produced within 500 miles of the construction site. Low VOC (volatile organic compounds) materials were utilized to decrease environmental impact and increase human comfort. Additionally, 20% of all materials used contain recycled content.
What is LEED?
LEED stands for Leadership in Energy and Environmental Design. LEED is a set of guidelines for buildings that allots points based on the utilization of different sustainable features. LEED judges buildings based on sustainable site, water efficiency, energy and atmosphere, materials and resources, indoor environmental quality, locations and linkages, awareness and education, innovation in design, and regional priority.