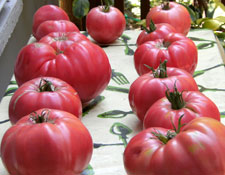 My decision to become a locavore one who commits to eating food grown or produced locally dates back to April 19, 2005. That evening, Vandana Shiva was a speaker for the Ethics/Religion and Society lecture series. After her excellent lecture on the environment from a global perspective, I had the opportunity to talk with Vandana as we walked back to the Brueggeman Center. I asked what I might do to help with environmental issues. She said, Buy locally; eat locally. Raise as much of your own food as you can in your circumstances.
I am fortunate to have a large backyard. In May, 2005, I planted a good-sized vegetable garden. That first garden was reasonably successful and I have expanded what I plant every spring since then. In fact, I buy organic seeds and start seedlings indoors, so they are ready to put out after the last frost. I especially like to plant heirloom vegetables, to help with preserving agricultural diversity. Raising my own seedlings means that I can be sure to plant some of the more unusual varieties that I like.
The last two summers I expanded my garden by renting plots at the Madisonville community garden. My backyard is large, but it also has significant shade because of the large trees. I make use of what sun there is in the backyard, but I love the fact that for a very small rental fee, that I can plant two plots in the community garden.
Last summer, the gardens produced red-skinned potatoes; sweet potatoes; leeks; Swiss chard; radicchio; several kinds of lettuce; spinach; scallions; parsley; eggplant, Ichiban and India Paint; tomatoes, Arkansas Traveler, German Queen, Hillbilly, Brandywine; cabbages, red and green; peppers, Poblano, Serrano, baby bell, blush bell, paprika, cherry; borage; epazote; thyme; chives; garlic chives; oregano; rosemary; and a bay tree (which I take inside before frost). There were even Jonathan apples from the backyard tree. The backyard garden is now producing winter rye, which I planted in the fall to help replenish the soil.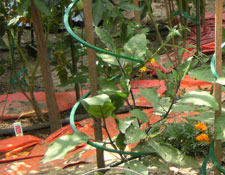 When I want something that the garden doesn't produce, I head to the local farmers markets. I get a schedule at the beginning of the season so that I know what's close and when the markets are open. There are an abundance of locally produced foods available. I also get hints from the CinciLocavore Yahoo group about what is available locally and how to grow food in an environmentally sustainable way.
Of course, I am still enjoying the benefits of the garden in January. In the summer, I cooked several batches of spaghetti sauce, chicken paprika, turkey chili and other dishes. I raid the freezer from time to time. A friend gave me a food dehydrator, to help preserve my garden produce, and I still have sweet potatoes in the basement. Obviously, I derive a great deal of pleasure from my decision to go local. It has become a wonderful hobby. I like playing in the dirt and harvesting my own food. I include two photographs of portions of the 2008 garden.
Sarah Melcher
Department of Theology