Justice Across Campus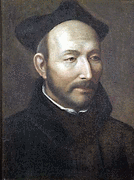 St. Ignatius of Loyola, founder of
the Society of Jesus

Xavier University
Justice Across the Campus
Jesuit Commitment to Faith and Justice
On Oct. 14-16, 2005 a dynamic Commitment to Justice in Jesuit Higher Education Conference was held at John Carroll University in Cleveland. All twenty-eight Jesuit colleges and universities in the US attended even Loyola of New Orleans. Xavier's Justice Across the Campus Committee agreed to initiate a year-long campus discussion of the fruit of the Justice Conference. Log onto www.Loyola.edu/justice to read conference papers and proposals.
Oct. 5-8, 2000, there was a national conference of the twenty-eight Jesuit Colleges and Universities at Santa Clara University. The spiritual leader of the Society of Jesus, Very Reverend Peter-Hans Kolvenbach, S.J. gave the keynote address. (See http://www.scu.edu/bannancenter/eventsandconferences/justiceconference/ Four hundred delegates from the twenty-eight Jesuit colleges and universities in the US, plus Roman Catholic leaders from Rome, Latin America, and the Far East, met to identify how the pursuit of social justice could better be incorporated into Jesuit higher education.
In October of 2002 there was a follow-up meeting in Chicago which Dr. Irene Hodgson and I attended. To implement the Santa Clara, 2000 gathering, The Commitment to Justice in Jesuit Higher Education, a steering committee formed in Chicago, with the support of the presidents of the Jesuit colleges, universities and theologates in the U.S., is planning a conference for October 13-16, 2005 at John Carroll University in Cleveland, Ohio, to share the fruits of our actions in response to the challenge of Fr. Peter Hans Kolvenbach's address at Santa Clara,
In preparation for the national conference in 2000 there were three regional conferences, one at Santa Clara, another at Boston College, the third at University of Detroit Mercy. On June 4-6, 1999, the Mid-West Conference of Jesuit Universities on "The Jesuit Commitment to Justice in Higher Education" was held at the University of Detroit Mercy. Creighton, Detroit Mercy, John Carroll, Loyola Chicago, Marquette, Rockhurst, St. Louis, Wheeling Jesuit University, Xavier, Seattle University, Santa Clara University, Boston College, Jesuit School of Theology at Berkeley and University of Notre Dame participated.
In the spring of 1999 each Jesuit university in the US was asked to do a self-study of its commitment to justice, what has been done, what remains undone. I was asked by Dr. James Bundschuh to coordinate the self-study at Xavier.
The year 2000 AD was the 25th anniversary of the Jesuit declaration in 1975 at their 32nd International General Congregation that "The mission of the Society of Jesus today is the service of faith, of which the promotion of justice is an absolute requirement. For reconciliation with God demands the reconciliation of people with one another." To me, the service of faith thus deals with our relationship with God; the promotion of justice means our relationship with our neighbor and the earth. The congregation also noted that this commitment "must be the integrating factor in all Jesuit ministries." The self-study done in 1999 asks, "How well has Xavier fulfilled this Jesuit commitment to the promotion of justice?"
The Justice Across the Campus Committee was formed in the summer of 1999 after attendance at a regional conference at the University of Detroit-Mercy. Its purpose was to prepare for the national meeting at Santa Clara University in 2000 and to help Xavier continue to fulfill the Jesuit mission. Since the national conference The Justice Across the Campus Committee has helped to facilitate the workers for Sodexho, Xavier's food-service provider, freely choosing a union. It is now addressing environmental issues, investment and vendor-related issues at Xavier.
A major achievement of the Justice Across the Campus Committee was its recommendation after extensive research and discussion that the card check process be followed in determining whether the Sodexho workers at Xavier want a labor union. Fr. Michael Graham, S.J., President of Xavier, accepted this recommendation and told Xavier's contract supplier of food service at Xavier, Sodexho corporation, that we wanted the card check process to be used. Sodexho workers chose a union and now have a contract.
Up-date on the national Justice Conference at John Carroll University October 13-16, 2005 can be found at www.loyola.edu/justice
Fr. Benjamin J. Urmston, S.J. , Director Emeritus Xavier Peace and Justice Programs.
University presidents sign climate commitment to phase out carbon dioxide emissions. Xavier one of more than 470 schools to sign 1/30/08
University President Michael J. Graham, S.J., recently signed the American College and University Presidents Climate Commitment. By signing the agreement, Graham joins more than 470 other college and university presidents who have pledged to reduce emissions of greenhouse gases due to campus operations. Those signing the agreement will work to become â??climate neutralâ?? by developing a long-range plan to phase out carbon dioxide emissions and other greenhouse gases. These gases are generated by burning fossil fuels for transportation, heat and energy.
As a Catholic, Jesuit University, it is Xavier's responsibility to undertake issues which have an impact not only on our campus, but on all of today's society, Fr. Graham. says.
There is no deadline for realizing climate neutrality, rather the commitment sets interim goals to meet along the way. For example: complete an inventory of greenhouse gas emissions by September 2008; and, one year later, create a detailed plan for reaching climate neutrality.
An oversight committee will be appointed to manage the implementation of the agreement at Xavier. The committee will be made up of faculty, staff and administration.The committee's work will build on what Xavier has already done over the past few years to reduce energy consumption,â?? notes Graham.
Some of the initiatives already in place at Xavier include: using fluorescent light bulbs rated at 15,000 hours that use 75 percent less electricity than traditional models; systems that turn off lights when no one is around; heating and cooling fans programmed to throttle back at night; efforts to encourage students to bring in only energy-efficient appliances to their dorms; purchasing only energy-efficient equipment; installing energy-efficient washers in dormitories; placing sensing valves in restroom sinks to conserve water; and buying small vehicles for University use, then combining trips to save even more fuel.
For more information visit http://www.presidentsclimatecommitment.org/.

Justice Across Campus Committee
September 2000 Report to Dr. Bundschuh from Justice Across Campus Committee
Open Forums Current evaluations of Justice At Xavier: How do We Measure Up? Below are the various areas of the University that I researched.

Ethics Religion/Society, Peace Studies, Cultural Diversity, Environmental Studies, Psychology, Women's Studies, Business College,. Graduate Education, Graduate Health Services, China Program, Latin American Studies, Academic Service Learning Semesters, Theology Department, Books/Articles, Faculty, Scholarships, Xavier Action, Habitat for Humanity, Pax Christi, Earthcare, Earthbread, Xavier Service Fellowship, Voices of Solidarity (VOS), Speakers, Faith & Justice Forum XU weekly radio show, Symposium, Bellarmine Parish, Peace & Justice Programs, Athletics, Student Development,Campus Ministry,Jesuit Community,Students for Life, Dorothy Day House Student Advisory Board, Public Relations, ROTC, Multicultural Affairs,Ignatian Programs, Drive for Justice, Students for Peace, Literacy Center, Financial Administration, Alumni, Regional Conferences

Summary of Self Study
Academic
The Ethics, Religion/Society program provides substantive opportunities for the ethical and/or religious analysis of socially significant issues. In particular the E/RS Program promotes critical attention to the underlying philosophical and theological implications of issues and it encourages a world view that is concerned about issues of peace and justice and oriented to responsible action. Basic courses are required in theology, philosophy, and in literature and the moral imagination. One example of an elective is Rethinking the Media, imagining what TV could be like if programming were more personally enriching and socially responsible.
Peace Studies is a rapidly developing area of academic study which from a variety of disciplines examines the causes and consequences of war and social conflict, the ethical implications of violence and peace, the requirements for peace and strategies for conflict resolution, and the relationship between peace, justice, and ecological sustainability.
A one-credit required course, the Cultural Diversity Program gives Xavier students an increased awareness of their own attitudes and behavior regarding diversity, and identifies ways in which students can continue to grow in their relationships with other races and groups.
The Environmental Studies Minor is a sixteen-hour interdisciplinary program compatible with any major. The minor offers students an integrated overview of environmental and natural resources fields by combining theory and practice about environmental systems from the sciences, the social sciences, and the humanities.
Women's Studies helps to fulfill the injunction of the 34th International Congregation of the Society of Jesus "to listen carefully and courageously to the experience of women and align ourselves in solidarity with women."
Williams College of Business has a Seminar Environmental Studies Course; a Service learning Practicum to not-for profit organizations or companies that are committed to serving their community; classes in Over-the-Rhine in Cincinnati to facilitate urban learning; an Economics class for the students who participate in the Nicaraguan semester.
The Graduate Education Program emphasizes many ethics issues and prepares teachers, administrators and school specialists to be advocates for the rights of children and youth. The Graduate Education Program deals with the legal issues relating to social justice, desegregation of public and private schools, equal educational opportunities for all children and youth, the rights of students, due process and fiscal equity.
The Graduate Health Services Program does much in the area of Justice, e.g. it has a federal grant to document the health care status of neighborhoods in Cincinnati. Ethical Issues in Health Care was judged a model course in health care ethics.
Along with the other twenty-seven Jesuit Colleges and Universities in the United States, Xavier is connected to an undergraduate and graduate program in Beijing, China.
Latin American Studies is an 18 hour interdisciplinary program housed in the Department of Modern Languages.
Xavier University offers three Service Learning Semester options -- Nicaragua, Inner-city Cincinnati, and Nepal. In a unique way, these semesters provide the opportunity to obtain a broader view of Cincinnati and of the world.
Faith and justice is integral to the Theology Department. The entrance course to Theology which is required for all freshmen has a faith and justice theme. Several upper-class theology courses are also centered around faith and justice.
Xavier faculty and alumni have authored, edited or translated several books and articles which are a significant contribution to faith and justice themes. Several faculty have affirmed present faith and justice programs and have suggested areas of improvement.
Some Faculty members have offered comments about the implementation of faith and justice at Xavier.
Scholarships show a financial commitment to minority and peace studies students.
Co-curricular
Xavier Action promotes and facilitates consistent, committed service to the community. Xavier Action links students with community agencies and projects in need of volunteers.
Habitat for Humanity at Xavier is an organization of students dedicated to involving the Xavier community in the elimination of poverty housing.
Pax Christi works with all people for peace for all humankind, always witnessing to the peace of Christ. As a member of Pax Christi, USA, which is in turn a member of International Pax Christi, The Xavier Chapter seeks to reflect the priorities of disarmament, a just world order, the primacy of conscience, education for peace, and alternatives to violence.
Earthcare, an environmental student group that recognizes our intimate connection with creation, was successful in lessening the use of styrofoam in Xavier's Cafeteria.
Earthbread is a student organization that studies food and hunger issues in the larger community. It sponsored Rural Plunges to an organic farm near Dayton, the farming community near Cathegena, Ohio, and west of Tell City, Indiana.
The Xavier Service Fellowship is a full, four year scholarship awarded annually to five first-year students who during their secondary school career demonstrated superior academic achievement, outstanding service to community, school and/or church, and leadership in encouraging others to serve. Recipients of the Fellowship perform regular community service in the greater Cincinnati area at least ten hours each week of the academic year. Selected Fellows give part of their time to Xavier Action.
The Mission Statement of VOS states: "Recognizing our responsibility as informed and compassionate Xavier students to be the voice of those who have none in this world, we, the members of Voices of Solidarity, pledge to educate the Xavier students and faculty regarding the grave political, economic, and social problems facing the nations of Latin America today."
Many groups at Xavier sponsor speakers on Faith and Justice themes. These speakers challenge the campus to new thoughts and ideas and a careful reading of the signs of the times.
Faith and Justice Forum, twenty-eight years young, was a radio religious talk show on WVXU-FM, the response of religious groups to social needs.
Xavier sponsored a year-long symposium on faith and justice themes of the 34th International Congregation of the Society of Jesus in 1995, '96.
Bellarmine Parish of Xavier University has an intensive year-long Justfaith program. Bellarmine also was one of two founding churches of the AMOS Project, a commitment of thirteen congregations to work with one another to live out faith and values through public action, funded partly by a grant from the national Catholic Campaign for Human Development
Peace and Justice Programs at Dorothy Day House sponsors speakers, Rural Plunges, Shantytown, and theme weeks such as Food Week, Life Week, Earth Week, Human Rights Week. The organizations of the Dorothy Day House have pledged to make Dorothy Day House a peace zone with no violence against persons, physical or verbal; peaceful communication and collaboration.
Intercollegiate athletics implements the overall mission of the University. All fifteen intercollegiate teams are involved in some form of volunteer service.
Student Development has several areas of faith and justice: 1. United Way & Community Chest Summer Service Internship, a joint endeavor between Xavier University and the United Way & Community Chest, the central social service agency in Cincinnati. The mission is to develop "people for others" who will continue to make service an integral part of their lives. 2. Collaboration with The Community Building Institute which assists neighborhoods in Cincinnati by helping leaders focus on community assets, strengths and talents rather than deficits and needs. 3. The Xavier Leadership Development Program which provides avenues to build students as leaders while increasing their awareness of civic responsibility. 4. The Xavier Plus Mentor Program which assists African American, Hispanic American, Asian American, and Native American first year students in their transition to Xavier University. 5. The Xavier International Student Services International Friendship Program which provides international students with a unique opportunity to meet and socialize with American families. 6. The Xavier Drama Department produces Voices for Change, a series of dramas on social justice issues. 7. There are several theme houses: Women's Issues; Christian Community; Men's wellness.8. Student Resident Assistants have a service day and reflection themselves in August and then lead the students on their wings in service during the school year.
Campus Ministry encourages students through retreat programs to see that a relationship with God is more than simply a one-to-one connection with the Creator, but that our faith must be lived out in our daily interaction with other human beings. A similar viewpoint is reflected in Sunday and week-day liturgies. Campus Ministry collaborates with Programs in Peace and Justice in the "Threshold" Retreat and with community service and justice-related clubs.
Since the Fall of 1996, the Xavier Jesuit Community has sponsored a series of Forums on contemporary issues for faculty, administration, and staff and has endowed the Pedro Arrupe Scholarship for an African-American freshman.
Xavier Students for Life follow the consistent ethic of life theme advocated by the late Joseph Cardinal Bernardin.
The Dorothy Day House Student Advisory Board affirms many present programs, calls for corporate responsibility, greater priority by Xavier in funding peace and justice issues, support for Gay and Lesbian group, moving to a Peace Studies Major, increasing staff for Peace and Justice Programs.
The Office of Marketing and Public Relations promotes the whole university which is committed to faith and justice. Xavier, the Magazine of Xavier University, regularly carries articles that highlight faith and justice. A Jesuit promotes the Jesuit vision of faith and justice to Catholic and Jesuit publications and to the world of the mass media.
The Reserve Officer Training Corps teaches the just war tradition and the rules of engagement of the Hague and Geneva conventions.
The Office of Multicultural Affairs provides programs and services to students of color, African American, Asian American, Hispanic American, and Native American. Multicultural Affairs advises the Black Student Association and the Black Greek fraternities and sororities.
Ignatian Programs empowers people to become leaders in service, "men and women for others," building a more just and human world.
A Drive for Justice delivered vehicles, medical supplies, and educational materials to grass-roots organizations in Nicaragua.
Students for Peace is a May excursion after the semester has ended to El Salvador by students with a faculty professor to perform community service and to study liberation theology first-hand.
The Xavier Literacy Center has programs at St. Francis De Sales Grade School, the Norwood English Lutheran Church, and on campus for Xavier International students.
Finance and Administration screens its endowment investments for alcohol, tobacco, and military weapons. Our bookstore is concerned about goods that may have been produced with the use of child or sweatshop labor. We have a recycling program.
Alumni
Alumni are directly active in faith and justice professions and jobs and have offered comments on what their education meant to them and what they would encourage in the future.
Background
The year 2000 AD was the 25th anniversary of the Jesuit declaration in 1975 at their 32nd International General Congregation that "The mission of the Society of Jesus today is the service of faith, of which the promotion of justice is an absolute requirement. For reconciliation with God demands the reconciliation of people with one another." To me, the service of Faith deals with our relationship with God; the promotion of justice with our relationship with our neighbor and the earth. The congregation also noted that this commitment "must be the integrating factor in all Jesuit ministries." The self-study asks, "How well has Xavier fulfilled this Jesuit commitment to the promotion of justice?" (To consult the documents of Jesuit General Congregations, go to http://www.jesuit.org/under Resources, Official Documents; 34th General Congregation; Decree Three, Our Mission and Justice.)
Way of Proceeding
Several years ago Xavier had a faculty seminar on Plato's Republic. It was the first faculty seminar growing out of concern that faculty understand the basic courses in the Ethics, Religion and Society sequence. Plato's Republic is the first book in Western thought on natural right or ethics. Its traditional subtitle is peri dikaiou, "On What Is Right" or " On What Is Just". Plato argues that human society is based on natural right or one's obligations to be a certain kind of human person. Justice, in Latin jungere, means "to bind", to be a particular kind of person in relation to others.
In Conversations, Spring 1998, David Hollenbach, S.J. asks "Is Tolerance Enough? The Catholic University and the Common Good." "For St. Thomas Aquinas the premier moral virtue is justice, which directs a person's actions toward the good of fellow human beings. Aquinas calls such concern for the common good of the community 'general justice.' "
The US Catholic Bishops have said, "Basic justice demands the establishment of minimum levels of participation in the life of the human community for all persons." The US Bishops stress basic human rights, especially economic rights.
The best place to start is with the Jesuit Congregation in 1975. What did its theme of faith and justice mean? I think the context of the Jesuit congregation was scripture and the social teaching of the Catholic Church. "My brothers, what good is it to profess faith without practicing it? Such faith has no power to save one, has it? If a brother or sister has nothing to eat and no food for the day and you say to them â??Good-bye and good luck! Keep warm and well fed,' but do not meet their bodily needs, what good is that? So it is with the faith that does nothing in practice. It is thoroughly lifeless." (James 2.14-17)
The Second Vatican Council stated, "The split between the faith that many profess and their daily lives deserves to be counted among the more serious errors of our age." In 1971 and 1974 the International Synod of Catholic Bishops made an essential link between faith and justice. Thus it was natural for the international congregation of the Society of Jesus to place new emphasis on joining faith and justice. Decree Four of the Thirty-second General Congregation of Jesuits explains why the promotion of justice is an absolute requirement for the service of faith. Reconciliation within the human family and reconciliation with God go together. We can't have one without the other.
Not all Jesuits and not all Jesuit institutions immediately and fully accepted the formulation of the international meetings of the Society of Jesus regarding faith and justice. In 1989 Jesuits and their lay colleagues from all the twenty-eight Jesuit universities in the United States met to see how Jesuit and Catholic universities could respond to the call of the international meetings of the Society of Jesus for the integration of faith and justice. In one of the sessions Fr. Avery Dulles, S.J., opposed the new statements of the Jesuit General Congregations as far as faith and justice was concerned. He argued against the terminology of justice as an absolute requirement of faith. He also saw practical drawbacks to the new formulation of the Jesuit mission. "Those dedicated to the pure sciences, the classics, and the arts feel that their work has been marginalized."
Fr. David Hollenbach, S.J. responded that no one can pretend any longer that education can be separated from nuclear war, the holocaust, genocide, and massive poverty. "Ignatian spirituality enabled the first Jesuits to appropriate the humanism of the Renaissance and to found a network of educational institutions that were innovative and responsive to the urgent needs of their time. . . Faith and humanistic cultural development was at the origin of Jesuit education in the United States. . .the root issue is this: what is Christian humanism in the face of Dunkirk and Dresden, Auschwitz and Hiroshima, the teeming streets of Calcutta and the broken bodies in Tiananmen Square? What is Christian humanism when we see the homeless that roam American cities and the growing underclass who are reduced to permanent hopelessness?. . . late twentieth-century Christian humanism is necessarily social humanism. . .This will call for creativity in every area of thought, education, and spirituality."
How has the Jesuit commitment to justice affected curricula, staffing, budget and attitudes of Xavier administration, faculty, staff, students and alumni? A continued self-study is expected to be intellectually sound. I would also hope it will be practical and down to earth. Rather than multiplying meetings unnecessarily, discussions of justice could become part of regular structures. I would rather have brief, simple responses to the question than abstruse, esoteric conversation.
J.D. Whitney, S.J., Professor of philosophy at Seattle University, is honest about his own feelings and that of others concerning the option for the poor. "Few topics seem as effective in bringing out the worst instincts in many of us. When it is raised, our hypocrisy, our sophistry, our self- righteousness all rally to our defense." Professor of philosophy and religious studies at Gonzaga University, Fr. Robert J. Egan, S.J. makes a similar observation. "We have tended to exempt our own fields of specialization from the call to integration of faith and justice. We claim confusion about what â??justice' really means, or about who â??the poor' really are, to call for more time or more studies, to privilege the sensibilities of our wealthier alumni and our major benefactors, or to claim that we have always been doing this very thing already -- and in just such a way that it now permits us to remain undisturbed in our established routines."
Despite public and private differences among Jesuits concerning the meaning of the integration of faith and justice, the 34th International Jesuit Congregation in 1995 reaffirmed the mission of the Society of Jesus: "The adjective â??Jesuit' requires that the university act in harmony with the demands of the service of faith and promotion of justice found in Decree 4 of GC 32. A Jesuit university can and must discover in its own proper institutional forms and authentic purposes a specific and appropriate arena for the encounter with the faith which does justice." (Decree 17, no. 410) For Jesuit Resources on Faith and Justice see
http://www.jesuit.org
Xavier's web page states:". . .the intangibles that best define Xavier's Jesuit values: the love of ideas and rigorous intellectual inquiry; the respect for life; the passion for justice; the exploration of ethics and values; and the sense of community-welcoming, sharing, working together for the common good."
From Xavier's Mission Statement: "In keeping with Jesuit tradition, Xavier believes that religious insights are complementary to the intellectual life, and that a continuing synthesis of the Christian perspective with all other forms of human knowledge is conducive to wisdom and understanding. Xavier shares in the worldwide Jesuit commitment to a creative and intelligent engagement with questions of peace and justice."
What books or articles have been written, translated, or edited by Xavier faculty on social justice issues?
Further descriptions of faith and justice activities at Xavier are welcome at any time. Individuals as well as departments and programs can respond. There are two main questions that could be addressed:
1. What present Faith and Justice programs at Xavier deserve to be reaffirmed?
2. In the spirit of the magis (greater good) of St. Ignatius, what more can be done?
The magis (greater good) urged by St. Ignatius of Loyola may mean that we do less, think and reflect more. To think can have results, can be a subversive exercise. As we enter a new year, a new century, a new millennium, perhaps God is calling us to think new thoughts and have fresh ideas. We'll never know unless we take time to think and pray.
Responses, of course, are voluntary and can be anonymous if the respondents feel more comfortable that way. I think the self-study is constructive and built on the positive thrust toward justice that Xavier already has.
As more responses come in, I will post them here on my web page at http://www.xu.edu/peace/frben.htm
under Justice Across the Campus.
I can also bring to the attention of Xavier's Justice Across the Campus Committee any current issues you feel need to be addressed.
In the anniversary year of Xavier University and of St. Francis Xavier, I think a new up-dated self-evaluation would be valuable. This new self-evaluation could start with a discussion of the meaning of "the service of faith and promotion of justice." Then Xavier could review what it has done, is doing, and could do. Visioning a master plan for faith, justice, and peace could be a great contribution to the Catholic Church and all faiths; to Cincinnati, and to the world.
Areas for discussion could include: 1. Incorporating more faith, justice, and peace themes into the Core Curriculum. 2. Coordinating the various faith, justice, and peace efforts on campus. 3. Having a peace studies major or co-major option. 4. Having a Christian Life Community available. 5. Having a University Committee or committees to deal with labor issues, commercial transactions, and corporate responsibility.
Peace,
Fr. Benjamin J. Urmston, S.J., PhD
Phone 513-745-3320
ML 2910
e-mail urmston@xavier.edu
Xavier University, 3800 Victory Parkway, Cincinnati, Ohio 45207-2910
3/1/10