Besl Family Chair for Ethics/Religion and Society
Xavier University established the Besl Family Chair as a part of the Ethics/Religion and Society Program. This program was endowed with the support of a challenge grant from the National Endowment for the Humanities and donations from Timothy Garry, a Xavier alumnus, and three generations of Besl family members.
Current Besl Chair (2014 - 2017)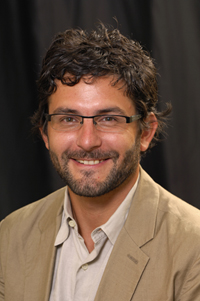 Adam Konopka is a philosopher specializing in environmental ethics. He received an M.A. from Boston College and a Ph.D. from Fordham University. An early-career scholar, he has nevertheless already published seven peer-reviewed articles in major journals on environmental ethics. He is currently expanding his dissertation into a book titled, Husserlian Eco-phenomenology: Overcoming the Human/Nature Dichotomy Toward a Holistic Virtue Ethic; the aim is to develop an environmental ethics for public policy. He is also working on the relationship between ethics and risk assessment, in particular with regard to environmental ethics.
While Dr. Konopka was a senior teaching fellow at Fordham, he was selected to participate in a Jesuit Pedagogy Seminar that engaged primary documents in the tradition (e.g., Ratio Studiorum and the Spiritual Exercises of St. Ignatius) in an effort to develop principled classroom strategies for the contemporary student population. He received the Early Career Scholar Award from the Association of Practical and Professional Ethics in 2013 as well as the 2013 Emerging Scholar Award from the College of Mount St. Joseph.
As a part of his application, Dr. Konopka proposed E/RS elective courses such as: "Environmental Justice in the Ohio River Valley," "Icarus' Flight: The Myth, Science, and Ethics of Risk," and "Prometheus' Theft: Technics and Societal Flourishing."