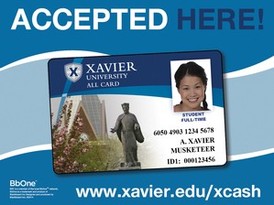 The Student Government Association in partnership with the ALL Card Center has taken the ALL Card X Cash flexible spending program off campus.
Look for the accepted here sign seen above at the door and cash registers of accepting locations and simply swipe your card for a quick cashless transaction debited from your ALL Card X Cash account.
Swipe your card at any of the businesses, or relay your ALL Card ID# over the phone for delivery and enjoy several new options for expanding your X Cash purchasing power off campus.
Off Campus Business

Info

Social
Media

Hyde Park Plaza
3842 Paxton Ave
513-533-0900

Rookwood Pavillion

Norwood
513-324-9464

Surrey Square
Norwood
513-351-0100
5229 Montgomery Road, Norwood
(next light past White Castle)
513-731-2600
University Station
513-531-1200
University Station
3751 Montgomery Rd
513-873-2465

University Station
1774 Lexington Ave.
8150 Montgomery Rd.
513-891-0223

Montgomery, OH
9321 Montgomery Rd