Meet the 2015-2016 Board
Chair - Emily Prebihalo
Emily is a senior Chemistry major from Columbus, Ohio. She is thrilled to be serving as Chair of AB after being involved in the program for the last three years and on the Board for the last two. In spring 2013 she went on her first trip, Conservation of Our Native Ecosystems, and worked with the local conservancy to learn about the native ecosystem on the island and the importance of conservation, and the rest is history! In summer 2013 she was fortunate enough to attend an Alternative Breaks national conference hosted by Break Away in Detroit, Michigan, to learn from other student leaders of Alternative Breaks programs across the country. She was the Fundraising Chair for the 2013-2014 school year and in spring 2014 went on her second trip to learn about alleviating rural poverty by creating opportunities. In summer 2014 she was a Site Leader at another Alternative Breaks national conference, this time in Baltimore, Maryland. She was a Risk Management Site Coordinator for the 2014-2015 school year and in spring 2015 went on the Mountain Top Removal trip. Here she learned extensively about the coal industry and its permeating effects on the Appalachian region. Outside of AB Emily is a student leader for tutoring through the Learning Assistance Center and participates in student research through the chemistry department. You can contact her at prebihaloe@xavier.edu.
Financial Chair - Michael Bosse
Michael is a junior Finance and Health Services double major from Cincinnati, Ohio. Freshman year, Michael went on the Mountaintop Removal trip and learned about mountaintop removal in Appalachia and the issues it brings to the surrounding communities. His direct service activities included weatherizing homes, building mountain bike trails, and planting trees on an old mountaintop removal site. Sophomore year, he was a site leader for the Elderly Living trip, where he built relationships with residents and had a very interactive and fun-filled week. Outside of Alternative Breaks, Michael spends his time volunteering through X-Change and Community Action Day, and he is also a tutor through the Learning Assistance Center. He is a member of Delta Sigma Pi professional business fraternity, is junior class officer for Health Services Club, and is a member of the Financial Management Association. Contact him at bossem@xavier.edu.
Special Events Chair - Kaitlin McGeeney
Kaitlin McGeeney is a senior studying Sociology with minors in English and Gender and Diversity Studies. She moved four times before she was four and has been in Cincinnati ever since. She falls more in love with the city, people, and Xavier every day! She will be going on her first AB trip this May focusing on sustaining food in an urban environment. She will also going on a Fall AB Trip focusing on Appalachian Culture and Simple Living. She could not be more excited, she has loved every moment of her AB experience and can't wait to see what the future holds. In her free time you can find her dancing, giving tours of campus, event and wedding planning at her internship, and coaching Girls on the Run! Feel free to contact her at mcgeeneyk@xavier.edu Kaitlin loves to chat and is so open to advice or suggestions you have about making AB the best it can be!
Communications Chair - Liz Tate
Liz Tate is a senior from Louisville, Kentucky. She has a major in Philosophy, Politics, and the Public and an Environmental Studies Minor. Her involvement with Alternative Breaks began when she was a first year at Xavier – she has been very passionate about the issue of mountaintop removal mining since she first learned about it in high school and was very excited to see that AB offered a Mountaintop Removal Mining and Appalachian Culture trip. Her trip to Appalachia in May 2013 was incredibly enriching and solidified her enthusiasm for AB. She went on the Post-War Communities summer trip a year later and witnessed firsthand the beauty and strength of solidarity in the face of violence and oppression. In her junior year she spent her spring break on the Prison Injustice trip, and finally worked up the guts to apply for AB Board after two years of just thinking about it. She loves to talk about AB and will not shut up about it if you get her started. Liz has a huge appreciation of puns, and is a connoisseur of French fries and other potato-based edibles. You can contact her at tatee1@xavier.edu.
Development Chair/Fundraising Chair - Michael McGrath
Michael McGrath is a sophomore (class of 2018) at Xavier University. Michael anticipates majoring in International Business with a minor in Peace and Justice Studies. He currently hails from the western region of Pennsylvania. As a freshman Michael went on the Alternative Breaks trip Discovering Post War Realities. The education and first hand experience of the trip has inspired Michael to work for economic and political equality within international communities. This past summer Michael also attended an Alternative Break citizenship school focused on developing leadership skills and useful insights for his involvement in AB board. The Alternative Break citizenship school Michael attended was in the Grand Canyon National park and focused on answering a call to action for National Parks. Outside of his involvement with AB, Michael is also a Manresa leader, a member of the RSA Executive Board, a member of Delta Sigma Pi and is a participant in Christian companion groups. Michael's true passion is traveling and experiencing the various cultures of the world. You may reach out to Michael by contacting him at mcgrathm8@xavier.edu.
Risk Management/Site Coordinator - Marla Kumor
Marla is a junior Nursing major from Toledo, Ohio. Her passion for Alternative Breaks blossomed during her freshman year she participated in the Literacy trip. After this remarkable trip, she continued her journey with AB by participating in the Adults with Cognitive Disabilities trip her sophomore year, where she experienced a community of people that changed her life. Following these two amazing experiences, Marla felt her deep love and passion for all things AB was calling her to become a member of the AB Board to give back to this organization that has deeply influenced her life, as well as help give others the opportunity to experience what she has experienced. Along with Alternative Breaks, Marla is Manresa Orientation Group Leader, X-Change Site Leader, a member of a Christian Living Community, and a member of Alpha Epsilon Delta. When she is not doing something nursing related (yes, it happens once in a while) you will find her exploring Cincinnati, eating food, or napping in bizarre places. You can contact Marla by email at kumorm@xavier.edu
Risk Management/Site Coordinator - Preeya Waite
Preeya is a junior Biology major with a minor in Chemistry from Cincinnati, OH. She made her greatest decision during her freshman year when she first decided to become involved in Alternative Breaks! In the spring of 2014, she was a participant on the Elderly Living in America trip. During her sophomore year, she served as a site leader for the Prison Injustices trip. Both experiences changed her outlook on the world, and she decided to become even more involved in the organization that has given her so much. She is very passionate about social justice, and is excited for another eventful yet rewarding year of Alternative Breaks! Outside of AB, Preeya works in the dean's office of the College of Professional Sciences and is an X-Change participant. Some of her hobbies include eating cheesecake, playing softball, and cheering for her favorite football team, the Philadelphia Eagles! Feel free to contact her at waitep@xavier.edu.
Travel /Site Coordinator - Amanda Henderson
Amanda Henderson is a junior nursing major from South Bend, Indiana. She participated in the Food Security in the City trip during her freshman year and went on the trip focused on Discovering Realities of a Post-War Community this summer. You can contact her at hendersona10@xavier.edu.
Education/Site Coordinator - Jack Delisio
Jack is a junior in the Honors Bachelor of Arts program and History as a double major, with Secondary Education as a minor. In his first year here at Xavier, Jack was a participant on the Gangs Prevention trip and as a sophomore served as a co-site leader on the Urban Schools as Community Learning Centers trip. Jack is extremely thankful for his AB experience at Xavier thus far and can't wait for what these next two years will bring with them! When he is not talking about how great AB is, Jack loves to sing along with The Avett Brothers, swim, eat, and spend time with his family, friends, and his dog Rudy, of course.
Retreats/Site Coordinator - Shannon Carney
Shannon is a Junior Biology major International Studies minor from Chicago, Illinois. She first developed a passion for Alternative Breaks freshman year when she participated in the Conservation of our Native Ecosystems trip. Recognizing that Alternative Breaks was a great way not only to meet new people on campus, but to dive into social justice issues, she continued her Alternative Breaks journey her sophomore year by participating on the Immigration: A Look into a Difficult Journey. After two incredible trips and experiences that will never be forgotten, Shannon felt urged to apply for Alternative Breaks board to grow in her commitment to an organization that has taught her so much about herself and more importantly the world around her. Outside of Alternative Breaks, she is also an X-Change site leader, Biology Club participant and volunteers at Cincinnati Children's hospital. She is very eager to be a Site Coordinator this year! You can contact her at carneys1@xavier.edu.
Travel/Site Coordinator - Alayna Romer
Alayna is a Junior Biology major with minors in Spanish and Chemistry from Dayton, Ohio. This spring Alayna participated in her fist Alternative Breaks trip, which focused on sustainable living, permaculture, and giving back to the Earth as much as it provides for us. It was this wonderful experience that inspired her to become more involved in the Alternative Breaks program that ignited her passion for social justice issues. She is very excited for another year of AB! Outside of Alternative Breaks, Alayna can be found volunteering with Boys and Girls Club through X-Change, she is a member of Pre-Med Society, and loves walks around campus. Feel free to contact Alayna at romera@xavier.edu if you'd like to walk and talk about anything, especially AB.
Reorientation/ Site Coordinator - Hannah MacKenzie

Hannah is a senior Human Resource Management major with a minor in Deaf Studies. She hails from the land of Cape Cod, MA but has been so grateful to call Xavier and its surrounding community her second home. A few things she enjoys include exploring Cincinnati, baking apple pie, the great outdoors, and creating music playlists for all occasions. Her love for Alternative Breaks came about during her freshman year as a participant on the Urban Agriculture trip. After an amazing and eye-opening first experience with AB, she co-lead the trip for Animal Rights and Welfare in Spring 2014, as well as for Water in Communities in Spring 2015. Through these opportunities, she has become deeply passionate about the environment and furthering her knowledge and awareness of social justice issues. She is ecstatic to join AB Board as a Site Coordinator and can't wait for another incredible year! Feel free to contact Hannah at mackenzieh@xavier.edu
Faculty Advisor - Shannon Hughes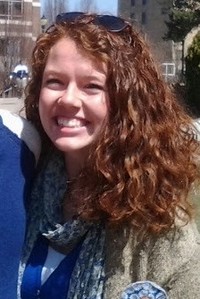 Shannon is excited to be joining Alternative Breaks in her role as Assistant Director for Service, Justice, & Immersion for the Dorothy Day CFJ! Shannon works with students, faculty, and staff to deepen our commitment to the pursuit of justice in our campus, local, and global communities. Prior to her work at Xavier, Shannon managed the NETWORK Education Program in Washington, DC (the partner of NETWORK, a National Catholic Social Justice Lobby). At NETWORK, Shannon created resources, fostered conversations, and ultimately helped to raise awareness and understanding around the central justice issues at stake in current federal policy. Shannon is also a proud XUAB alum and as a student participant and Board member, traveled to Colorado to work with men in recovery from addiction, to the Dominican Republic to work with Orphanage Outreach, and to Little Rock, Arkansas to learn about Global Hunger (and clean up after a few water buffalo) at the Heifer Ranch. When she's not hanging out with the AB Board, Shannon loves to play outside, write, and try yellow mustard on anything in the fridge. Email her at hughesse1@xavier.edu.