Alina Gonzalez
Chair
Alina is a senior Psychology major with minors in Criminal Justice and Gender and Diversity Studies. She is from the northwest side of Chicago, but calls Cincinnati her second home. Alina has been a part of the Alternative Breaks program since her first year at Xavier when she had a life changing experience on the trip, "A Glimpse of Homelessness". After the first AB experience, she decided she wanted to be more involved with AB and the many great things the program offers. During Alina's sophomore year, she was a site leader for the trip, "An Inside Look at Prison Injustice", which truly established her interest in criminal justice and the many issues surrounding the system in our society. Finally, during her junior year, Alina participated in the trip "Human Trafficking: Awareness, Prevention, and Outreach". This was another eye-opening experience as it focused on education, training, and advocacy, rather than direct service. Last year, Alina also served on the AB Board as the Membership Chair, which is why she is so excited to serve as the Chair this year for the program she truly loves and respects so very much. Alina's passion for social justice sparked early on before Xavier, but has continued to grow immensely through Alternative Breaks, which is why XUAB is such an amazing opportunity for all Xavier students to join. Please feel free to contact Alina with any AB questions at gonzaleza8@xavier.edu.
---
Winston Kunkel
Financial Chair
Winston, hailing from Brookville, Indiana, is a senior at Xavier University studying mathematics and actuarial science with minors in theology and biology. He developed a passion for Alternative Breaks before he even started the program and solidified this passion his first year when he went on the Conservation of Our Native Ecosystems trip on which he learned about the island and the problems it faces. He has led Sustainable Living and Appalachian Culture trip and went on Embracing Different Abilities during his service on board as a risk management site coordinator. Outside of involvement with XUAB, Winston serves as a member to the Dean's Student Advisory Board of the College of Arts and Sciences, actively participates in Xavier Men's Club Volleyball, works in the Office of Enrollment Management and the Mathematic Tutoring Lab, has served as a Manresa Staff Member, and conducted epidemiology research at T.H. Chan School of Public Health this past summer. Please do not hesitate to contact him at kunkelw@xavier.edu.
---
Sara Sweeterman
Fundraising Chair
Sara is a Junior Public Relations and Advertising double major with a minor in business from Dayton, Ohio. Sara started her AB journey her freshman year with the Refugee resettlement in America trip. Since she had such an eye-opening experience she decided to apply to be a site leader her sophomore year and co-led the Embracing Differing Abilities trip. After these two incredible experiences and a growing passion for social justice, Sara decided to become even more involved and apply for an AB board position. Alternative breaks has changed the way she sees the world and how she interacts with it. AB sparked a passion for all things social justice and a growing commitment to the world around her. Outside of alternative breaks you can find Sara singing with the Acabellas, working out with CHAARG, or hanging out with the LADS in companion group. Feel free to chat with Sara at sweetermans@xavier.edu.
---
Rachel McFadden
Membership Chair
Rachel is a sophomore Economics and Management major from Columbus. Her first AB experience took her all the way to El Salvador to learn about realities of a post-war community. Her duties this year as membership chair include running the social media and designing the t-shirts! In high school, Rachel participated in five service trips to the Appalachia area. Besides AB, she is a proud member of Delta Sigma Pi business fraternity, WCB's Deans Advisory Board, liturgical choir, honors council, and Manresa. She loves the outdoors, soft serve ice cream, and crime shows. Rachel would love to meet all of you- please don't hesitate to contact her at mcfaddenr@xavier.edu.
---
Nikki Lang
Special Events Chair
Coming to the Queen City from the small town of Lowell, Ohio, Nikki is a senior Occupational Therapy major with minors in Deaf Studies and Psychology. Although AB was part of the reason that Nikki chose to come to Xavier, her first AB experience didn't happen until last year when she went on the Embracing Differing Abilities trip to Mobile, Alabama. This trip not only gave Nikki an introduction to AB, but also kindled her compassion for others. As she learned more about AB and different social justice issues, Nikki wanted to become more involved in serving the world around her and knew that AB Board would be a fantastic opportunity to do just that. Outside of AB, you can find Nikki working at the campus Subway, tutoring ASL for the Office of Academic Support, or playing flute in Xavier's pep band! She also loves cheeseburgers, dogs, and Rock'n'Roll. Despite her relative newness to the world of AB, Nikki is very enthusiastic about joining us on Board, and is prepared to learn fast and work hard. If you ever have any questions or just want to chat, please feel free to email Nikki at langn2@xavier.edu (or stop by Subway to see her)!
---
Sam Flesh
Risk Management/Site Coordinator
Sam is a Sophomore from South Bend, Indiana. She is majoring in Digital Innovation, Film and Television with minors in Spanish and Peace and Justice Studies. Her passion for Alternative Breaks began when she went on a tour of Xavier during her Junior year of high school and first heard about the program. Her first Alternative Break Trip was Immigration: A Look into a Difficult Journey, which focused on every aspect of the immigration process specifically from Latin America. This spurred her desire to become a member of AB Board. Outside of AB, Sam is the Treasurer of the Student Organization of Latinos, the President of Animals, People and the Environment and is a member of XUTV's weekly broadcasts. Feel free to contact her at sflesh@xavier.edu.
---
Zac Ortiz
Risk Management/Site Coordinator
"Howdy!" Zac is from the great state of Texas (Austin, TX), and is a Junior at Xavier University studying Political science with minors in International Relations, History, and Peace & Justice. He developed a love for Alternative Breaks before even going on a program at the Approach Retreat his freshmen year. Zac had no clue what Alternative Breaks was until hearing others talk about how this program changed others' lives. Zac went on Empowerment of Immigrants Workers Rights (aka Immigration 2) his sophomore year and came back wanting to do more. This year he is coordinating Urban Microfarm and Appalachian Ecosystems for the fall break trips and Urban Agriculture, Immigration 2, and Post-War Communities in the Spring. Outside of his AB involvement, Zac plays Club Tennis, is a member of S.O.L and works at Smith's MBA office. Feel free to contact him at ortizj7@xavier.edu if y'all have any questions.
---
Addy Leopoldo
Travel/Site Coordinator
Addy is a junior Early Childhood Education major from the suburbs of Chicago. Her journey with AB started her sophomore year when she went on a Spring Break trip to Apopka, Florida focusing on farm workers' rights and immigration. This trip had such a lasting impact on her life and left her wanting to do more. It's going to be her first year on board and she's looking forward to what the upcoming year has in store. In the future, she wants to continue fueling her passion for social justice specifically through her work in education. Otherwise, you can find her enjoying the beautiful weather outdoors, drinking coffee, and spending time with family and friends. Don't hesitate in reaching her at leopoldoa@xavier.edu with any questions or just wanting to talk!!
---
Brianna Ledsome
Travel/Site Coordinator
Brianna is a sophomore Philosophy, Politics, and The Public, International Studies, Modern Languages and International Economics and Political Science quadruple major. This spring, Brianna participated in her first Alternative Breaks trip, Empowerment of Immigrants and Workers' Rights. She had a wonderful experience in Apopka, FL, and it inspired her to be more deeply involved not only in the Center for Faith and Justice, but on AB Board as well. Outside of AB, Brianna was an SSI intern in the summer of 2017, is a barista at Coffee Emporium, and is a member of Common Ground team. Feel free to reach out to Brianna at ledsomeb@xavier.edu if you need anything at all!
---
Lauren Bailey
Leadership Development/Site Coordinator
Lauren is a junior Social Work major from Columbus, Ohio. Her first experience with Alternative Breaks occurred during her freshman year when she went on her first trip: Immigration: A Look into a Difficult Journey. This trip gave her an insight into the current policies in place regarding immigration, as well as the possible ways it could be reformed in order to better serve others. This past spring, she had the privilege of co-leading the Prison Injustice trip, where she explored the issues surrounding the criminal justice system. These two trips have greatly influenced her approach to life, as well as her future goals. Lauren has the privilege of returning to AB for another year – this time as the Leadership Development Site Coordinator. Additional CFJ involvements for the upcoming year include leading GetAway – the first-year retreat, and participating in the Summer Service Internship. In her free time, you can find Lauren grabbing coffee with friends, running, and exploring Cincinnati. She is looking forward to a great year with AB, and can be contacted at baileyl4@xavier.edu with any questions.
---
Andrea Solis Canto
Community Engagement/Site Coordinator
Andrea is a sophomore Philosophy, Politics, and the Public and International Studies double major from Boise, Idaho. She became involved with Alternative Breaks her freshman year on the trip A Glimpse of Homelessness where she spent a week working with individuals who were experiencing homelessness. This impactful experience made her even more passionate about social justice issues and discovering how service can be a part of her everyday life. In addition to AB, Andrea is a Community Engaged Fellow, she is a part of Xavier's Mock Trial team, and enjoys spending time discovering more about the Cincinnati community. Feel free to contact her any time at soliscantoa@xavier.edu.
---
Nia Mosley
Education/Reflection/Site Coordinator
Nia Mosley is a senior psychology major with a minor in criminal justice. She is happy and honored to work as the education and reorientation site coordinator for the 2017-2018 school year. As a junior she was a co-site leader for the Civil Rights: Then and Now in Selma, Alabama. AB has broadened the way she views social justice and impacted the way she goes about her service work. AB has impacted her to spread awareness about the social injustices that plague not just people here in Cincinnati but across the world. Outside of AB you can find her in the CDI, the CFJ, spending time volunteering, or around campus studying. She can be reached at mosleyn@xavier.edu.
---
Shannon Hughes
Faculty Advisor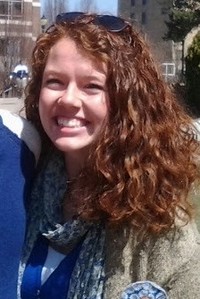 Shannon is excited to be continuing Alternative Breaks in her role as Assistant Director for Service, Justice, & Immersion for the Dorothy Day CFJ! Shannon works with students, faculty, and staff to deepen our commitment to the pursuit of justice in our campus, local, and global communities. Prior to her work at Xavier, Shannon managed the NETWORK Education Program in Washington, DC (the partner of NETWORK, a National Catholic Social Justice Lobby). At NETWORK, Shannon created resources, fostered conversations, and ultimately helped to raise awareness and understanding around the central justice issues at stake in current federal policy. Shannon is also a proud XUAB alum and as a student participant and Board member, traveled to Colorado to work with men in recovery from addiction, to the Dominican Republic to work with Orphanage Outreach, and to Little Rock, Arkansas to learn about Global Hunger (and clean up after a few water buffalo) at the Heifer Ranch. When she's not hanging out with the AB Board, Shannon loves to play outside, write, and try yellow mustard on anything in the fridge. Email her at hughesse1@xavier.edu.